Shipping and payment
One of my concerns regarding a "Click-and-buy" set-up is, that I cannot offer shipment and returns free of charge. But now I've found a website regarding Con­su­merrights in Denmark, stating that since I am a private person, I have no obligations in that area. It's the same as when we purchase things on websites like www.dba.dk, www.trendsales.dk or when we visit fleamarkets. Then the same rules apply ie. when you purchase from a private person, we have no rights about getting an item exchanged. Please find more information HERE. And because I know this works for so many people, including myself having used DBA numerous times, I found myself having one less area to worry about.
I'm working hard to find a technical click-and-by set-up, instead of communicating through textmessages and mail.
Workshops
It is free of charge to participate in my workshops. If you decide to buy one of my Redesigns while participating in my workshops, you get 10% discount. The same applies, should you decide to subscribe to my newsletters. I will make a cup of coffee and tea and you're always welcome to bake a cake or to bring a bottle of wine.
Pricelevel
If you decide to buy clothes from my collection you will find prices between 225 DKK and 750 DKK. My prices are based on the materials always being recycled and either given to me or coming from my own wardrobe. Sometimes I find recycled things in recycleshops, going to markets etc. Having said that, it's important that you know that my goal is that you are not paying for materials but for some of my time. Even though I almost always spend several hours for each redesign, then I do not charge by the hour. In cases where you find clothes in the top end, it will only be because the material; fabric or yarn is of a very high quality of if I've spend many hours, or if it's been very difficult for me to produce.
Washing instructions
All the clothes in my collection is clean and ironed. You will not find anything worn out or smelly because we are non-smokers. In order for you to be able to keep clothes from FieFit Redesign for as long as possible, you will always receive washing instructions. If you decide to come visit me, you will find that all my clothes are tagged with the same information as you find online.
Redesign your own clothes
When you participate in my creative workshops, you will find inspiration on how to upcycle and redesign your own clothes. A good advice is always free of charge. You're also welcome to bring your knittingwear, or crochet and if you master other kind of creative work, for instance lacework, I'm sure that we are many who wants to learn from you. The purpose of my workshops are to give and to get inspiration and to find new ways of doing things. And if the materials we use are recycled, then it's even more fun. And in addition to all the creativity I hope we can get a lot of good laughs and good dialogues.
---
Side benefit
By purchasing one of my Redesigns you get below toiletbag as side benefit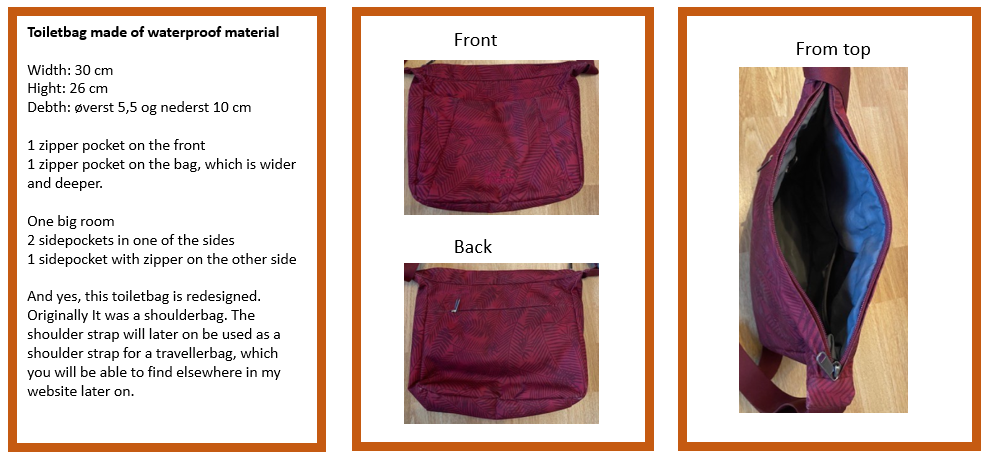 By purchasing two of my Redesigns, at the same time, you get to choose between below side benefits: The black leatherbelt is 132 cm and the metallock is 9 cm Ø. The leopardbelt is made of metal, 90 cm and 6 cm tall. The pink leatherbelt is 102 cm, without the lock and 3 cm high. The pink metal belt with the squares is 87 cm long, without the lock and 4 cm high.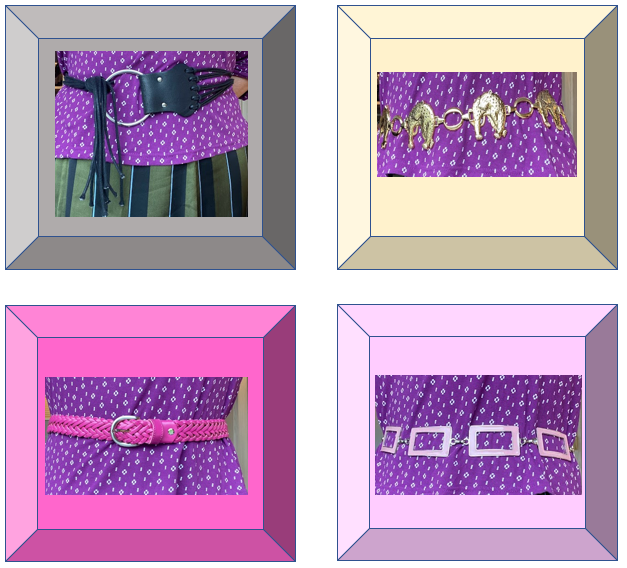 Earstickers and broches, from left to right and from the top: Silverearstickers with tiny amber lumps, 2 cm long. Roseearstickers with small "Zirkonia"-like bombs and 1 cm Ø. Brooch with beads and small "Zirkonia"like bombs on silverflowers. The safetypin can be used as brooch to keep a scarf in place or just as a brooch.
From left at the bottom: Porcelainbrooch 3 cm. "Perlemors"brooch with cobberstrings 3,5 cm. Marguerite brooch 3 cm Ø.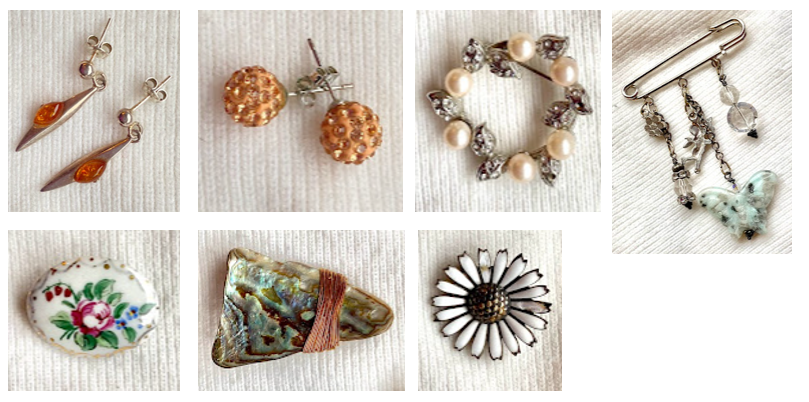 Bracelets from left to right: Magnetbracelet 16 cm. Green leatherbraceet with "Zirkonia"like ring 37,5 cm incl magnetlock. Black knitted bracelet with purple and silverbombs 22 cm inkl magnetlock. Glassbracelet 20 cm measured tight. Brown leatherbracelet with "Zirkonia"like ring 37,5 cm incl magnetlock. Purple leatherbracelet with "Zirkonia"like ring 37,5 cm incl magnetlock. Black leatherbracelet with "Zirkonia"ring 37,5 cm incl magnetlock.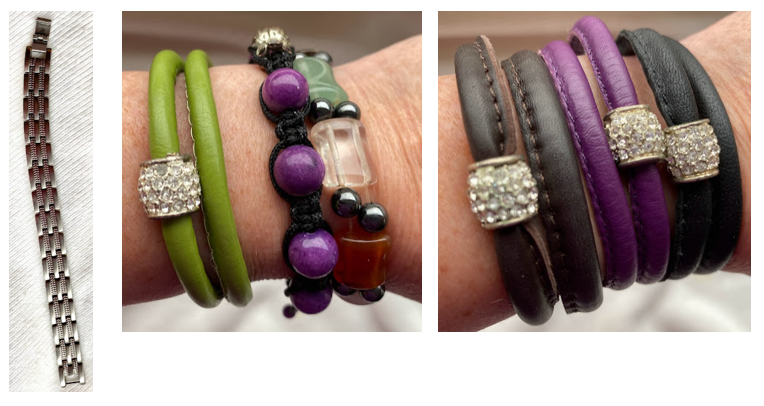 By purchasing three of my Redesigns, at the same time, you can choose one Pandora pendant for either a bracelet or a necklace: