---
INDEX  – Guided tour on how to benefit most, when visiting my website. Enjoy 😊
---
Shipping and payment
Since my workshop is a hobby, I cannot offer you shipment and returns free of charge. However, should you wish to buy one of my Redesigns, I can offer two ways:
Most of my Redesigns are also for sale on TRENDSALES. In these cases you'll find a link to the Trendsales add in connection with the specific item here on my website. Then Trendsales will find the shipment rate, and the item will be sent to you with DAO. Easy and fair for both of us.
Call me; 4082 9038 and let's agree on when you can visit me; Horseløkke 15, 4622 Havdrup, try the Redesign on, and you will save shipment time and -expenses. Should you wish to have slight adjustments, let's see if we can fix them right away.
Workshops
It is free of charge to participate in my workshops and I will make a cup of coffee and tea and you're always welcome to bake a cake or to bring a bottle of wine.
Here you will find inspiration on how to upcycle and redesign your own clothes. A good advice is always free of charge. You're also welcome to bring your knittingwear, or crochet and if you master other kind of creative work, for instance lacework, I'm sure that we are many who wants to learn from you. The purpose of my workshops are to give and to get inspiration and to find new ways of doing things. And with the purpose of using recycled materials. And in addition to all the creativity I hope we can get a lot of good laughs and good dialogues.
Pricelevel
If you decide to buy one of my Redesigns, you will find the same pricelevel as when you buy recycled clothes, either on Instragram or in recycleshops. Which means that you do not pay extra for neither the time or the materials, that I've added in order to make my Redesigns.
Washing instructions
All the clothes in my collection is clean and ironed. You will not find anything worn out or smelly because we are non-smokers. In order for you to be able to keep clothes from FieFit Redesign for as long as possible, you will always receive washing instructions. If you decide to come visit me, you will find that all my clothes are tagged with the same information as you find online.
---
Side benefit
By purchasing one of my Redesigns you get below toiletbag as side benefit
By purchasing two of my Redesigns, at the same time, you get to choose between below side benefits: The black leatherbelt is 132 cm and the metallock is 9 cm Ø. The leopardbelt is made of metal, 90 cm and 6 cm tall. The pink leatherbelt is 102 cm, without the lock and 3 cm high. The pink metal belt with the squares is 87 cm long, without the lock and 4 cm high.
Earstickers and broches, from left to right and from the top: Silverearstickers with tiny amber lumps, 2 cm long. Roseearstickers with small "Zirkonia"-like bombs and 1 cm Ø. Brooch with beads and small "Zirkonia"like bombs on silverflowers. The safetypin can be used as brooch to keep a scarf in place or just as a brooch.
From left at the bottom: Porcelainbrooch 3 cm. "Perlemors"brooch with cobberstrings 3,5 cm. Marguerite brooch 3 cm Ø.
Bracelets from left to right: Magnetbracelet 16 cm. Green leatherbraceet with "Zirkonia"like ring 37,5 cm incl magnetlock. Black knitted bracelet with purple and silverbombs 22 cm inkl magnetlock. Glassbracelet 20 cm measured tight. Brown leatherbracelet with "Zirkonia"like ring 37,5 cm incl magnetlock. Purple leatherbracelet with "Zirkonia"like ring 37,5 cm incl magnetlock. Black leatherbracelet with "Zirkonia"ring 37,5 cm incl magnetlock.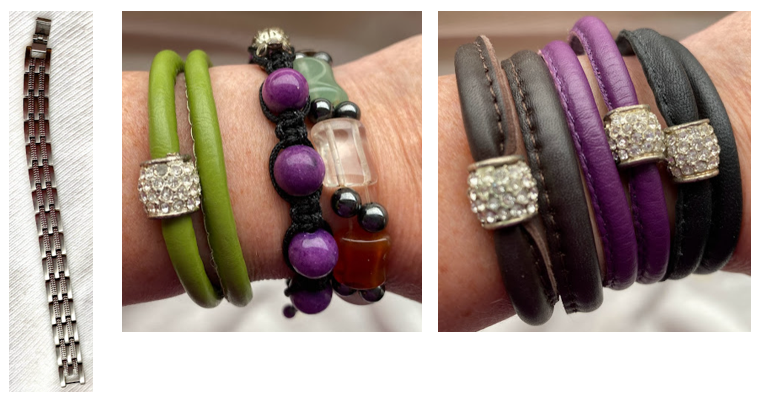 By purchasing three of my Redesigns, at the same time, you can choose one Pandora pendant for either a bracelet or a necklace: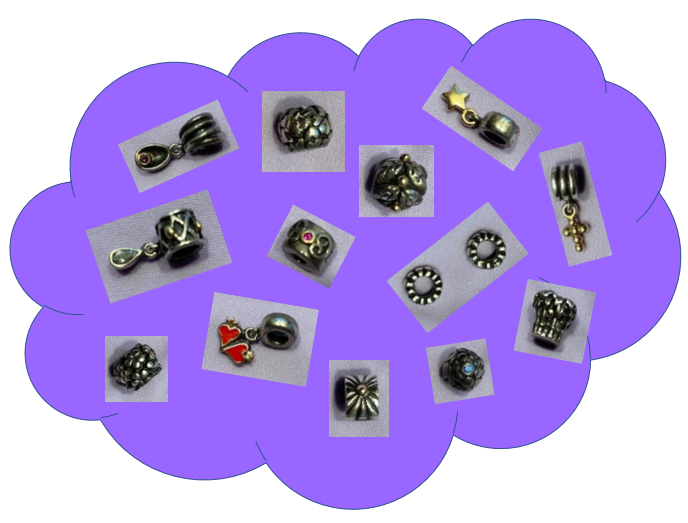 ---