Pink cottonblouse with a new bag
An example of how to increase size of a blouse and in addition, make it a little more exciting. I've added a piece of fabric in the bag. This time I've kept the size but you could as easily have increased the size by adding a wider piece of fabric both on the front and bag. I've kept the simplicity in the blouse in order not to spoil a lovely piece of heavy cotton. I've added lace to the sleeves and on the bottom of the blouse. Inside the neckline I've added a matching piece of fabric to make the blouse look nice even when it's hanging in your closet. Breast: 102 cm. Length: 64 cm. Due to the laces, I recommend that you wash the blouse in a laundrybag and on 30 degrees delicate wash.
Price 175 DKK. Itemno.: 2021-02-64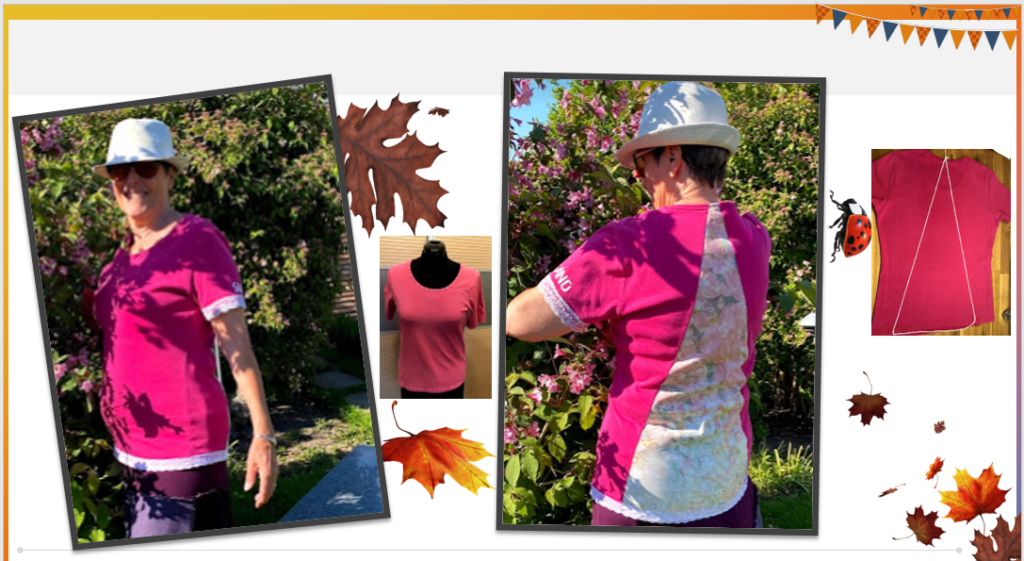 Before: Men's shirt. After: Ladies blouse
I'm certain that it's possible to find a lot of men's shirts lying in closets. Have you checked lately? Either because they're no longer trendy, worn out, too large or too small. I found this shirt in my husbonds closet. In good conditions apart from the size. I was permitted to redesign it and now it's a blouse with short and wide sleeves. I've removed the collar and made a "china-collar" instead. It's a heavy fabric and thus it doesn't need ironing. Breast: 114 cm. Length: 69 cm. Washing instructions: 30 degrees delicate wash.
Price 225 DKK. Itemno.: 2021-02-63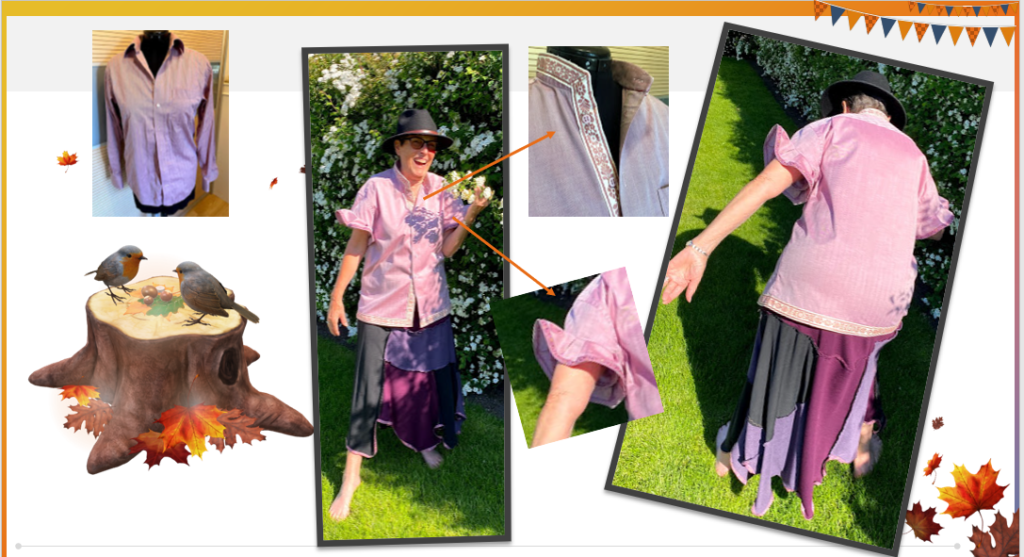 A new blouse after a simple repair
A light and airy blouse, a bit transparent and thus maybe requires a small top or nice bra. The fabric had broken on one of the sleeves. I cut of the lower part of the sleeves and added a band matching the green colour in the blouse. Breast: 116 cm. Length 63 cm.
Price 250 DKK. Itemno.: 2020-02-09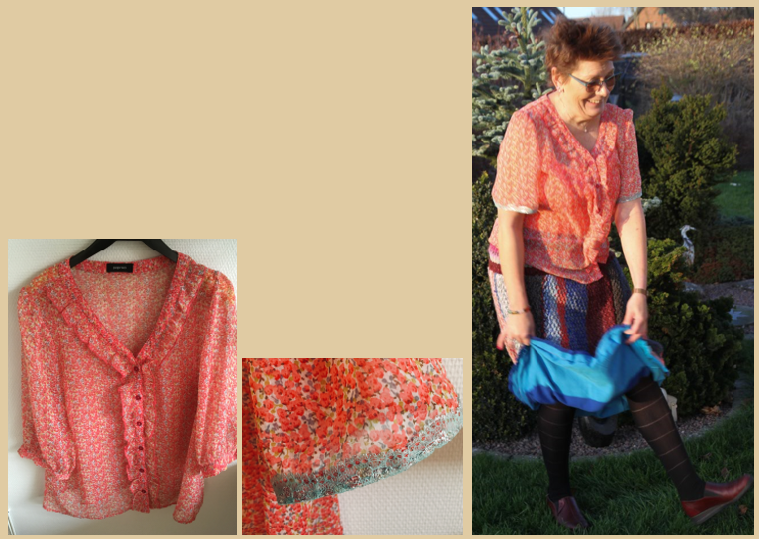 Two blouses became one
Two similar blouses in which one of them had a whole on one of the sleeves. These blouses are so soft and good to wear and instead of throwing one out, I combined the two of them. 100% Cotton. Breast: 102 cm. Length: 65 cm.
Price 295 DKK. Itemno.: 2020-02-10
From short to long sleeves
This blouse startet out as a simple black blouse with short sleeves. Then I added some elegant sleeves from another black blouse. Between body and sleeves, I added a piece of black lace and I also made the sleeves longer with the same piece of lace. I think it looks nice both to a pair of Denim at work and to a party. Breast: 104 cm. Length: 62 cm.
Price: 395 DKK. Itemno.: 2020-02-13

From size S and simple blouse to size M added a bit of fun
This is one of my favorites and also one of the first blouses I made. You could say it's my signature blouse. This is an example of how to increase size with only a few changes. The white blouse is knitted (by machine) and very nice to wear. Then I added parts from another blouse to make the borders. I cut it open in the front and added a zipper which matches the colour of the fabric used in the border. The bag has also been increased by using the same fabric as the borders. In each side I've added a lace, which makes the blouse a bit transparent. The collar are braided by using the fabric used in the borders and bag. A fun botton finalizes the look. Material: Cotton, Viscose. Bryeast: 100 cm. Length: 65 cm.
Price: 395 DKK. Itemno.: 2020-02-16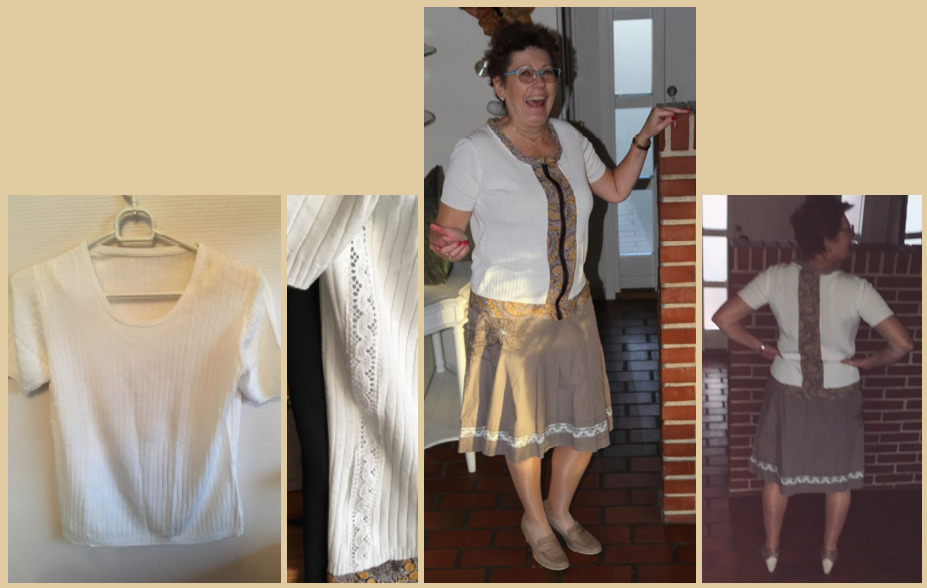 ---