From sweatshirt to skirt and legwarmers
This sweatshirt is made of such a heavy and comfy fabric; 60% Cotton and 40% Polyester, that I had to try and redesign it. And the result became this nice skirt. First I cut of the sleeves, turned it upside down and added an elegant piece of English embroidery. If the linnin doesn't fit you perfectly, I can add a wide elastic within. A lace was added at one end of the sleeves and elastic at the other end. This way it fits tight to either boots or shoes. Washingguide: In a laundrybag due to the laces and in 30 degrees delicate program or Woolprogram. Width on top of skirt: From 100-120 cm. Width by the lace: 112 cm (not elastic). Length: 67 cm
Price: 175 DKK. Itemno.: 2021-02-67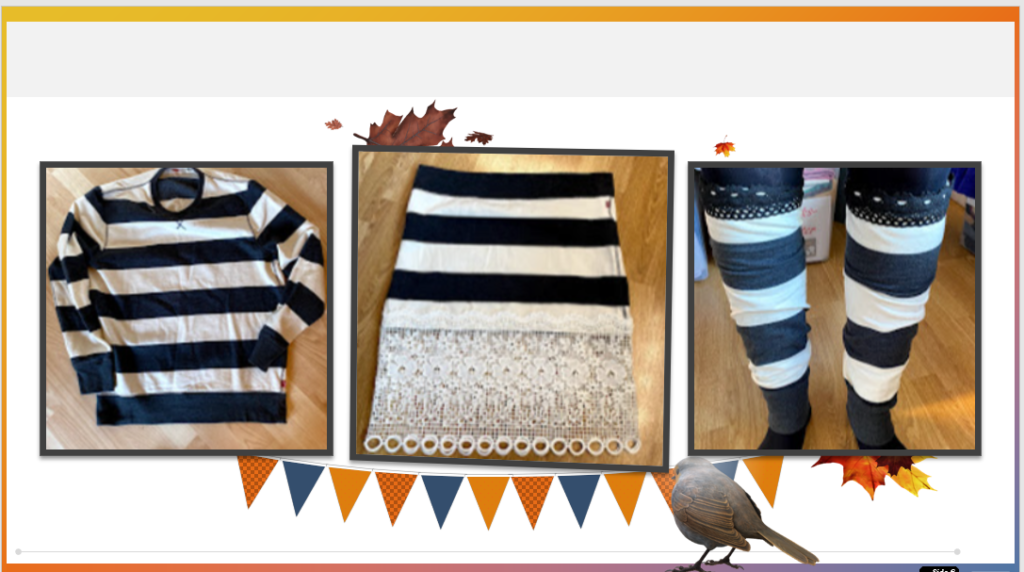 From pants and Pashminashawl to skirt
My husbands retired Pinewood zipp-off pants made of "parachute fabric" was combined with a soft Pashminashawl. And now it's a skirt. The colours from both items are matching and the belt is a piece cut of from the shawl. Waist: 84 cm. Length: 78 cm. I recommend 30 degrees delicate wash, preferably in a laundrybag due to the shawl. As many of my other redesigns, it has been washed after redesigning. 
Price: 325 DKK. Itemno.: 2020-02-47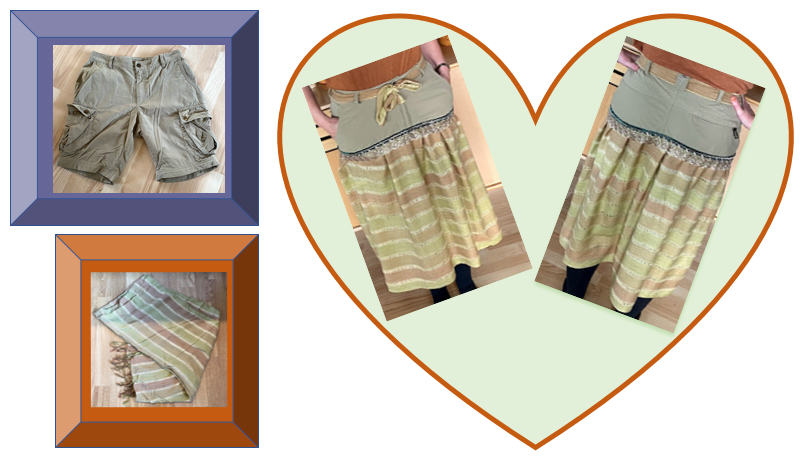 From footballshirt and Pashminashawl to skirt
This old footballshirt was made of such a comfy quality that it would be a shame to throw it out. Instead I turned it upside down. Cut of neck and sleeves and instead of an elastic waste in the bottom of a shirt, the waist was now the top of a skirt. A matching Pashminashawl was added and the result is this fun and fancy skirt for the Tall woman/girl (in the picture I'm stading on a stool). Measured from top to bottom: 119 cm. Waist min: 84 cm. Waist max: 100 cm.
Price: 325 DKK. Itemno.: 2020-02-45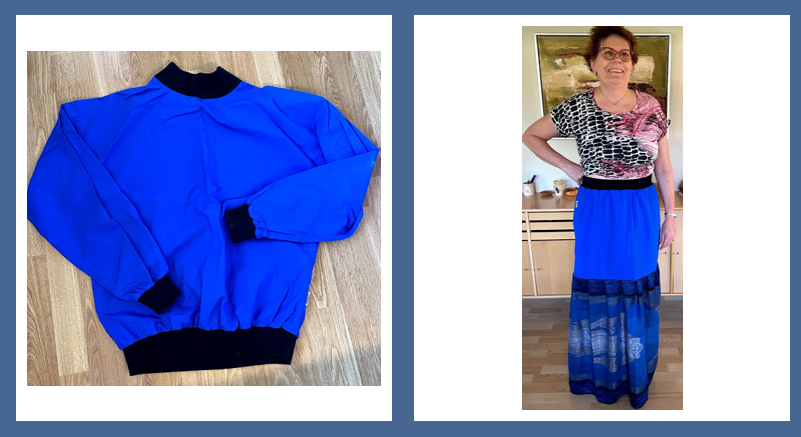 From knitted Mohair to skirt
I've always loved this knitted Mohairshirt. But it became too small. Instead of giving it away I cut of the sleeves, turned it upside down and now it's a sweet skirt for the Petite woman or at least a size 38. In the picture I had to hold my breath to show it to you. Length: 50 cm. If you prefer to wear it with an underskirt, I've got one in the same colour. But the knitted Mohairskirt is not transparent.
Price: 295 DKK. Itemno.: 2020-02-05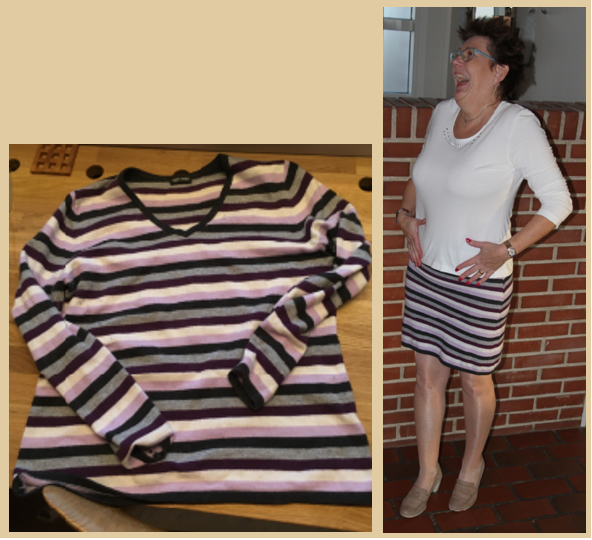 From Jeans to skirt
Two different redesigns for a Jeansskirt. The first skirt was worn out and replaced by a new later on. Waist: 87-88 cm. Length: 70 cm.
Price: 325 DKK. Itemno.: 2020-02-08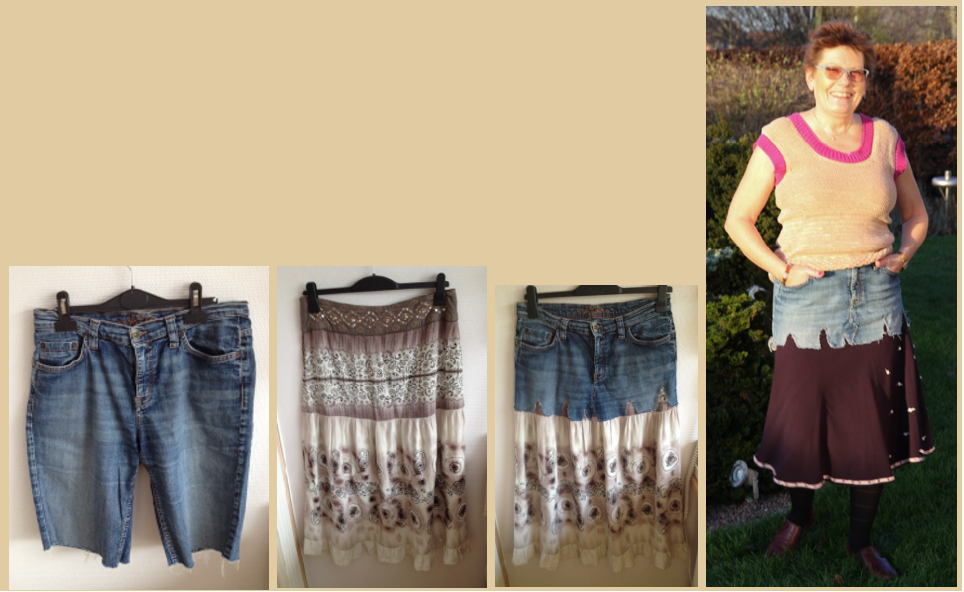 From Joggingpants and a dress to skirt
A pair of joggingpants with too short legs, a black dress that had started to faint and pieces from a sweater was redesigned to a skirt. All the fabrics are very soft thus it makes a good and comfy skirt now. Waist: 82-96 cm. Length: 90 cm.
Price: 325 DKK. Itemno.: 2020-02-03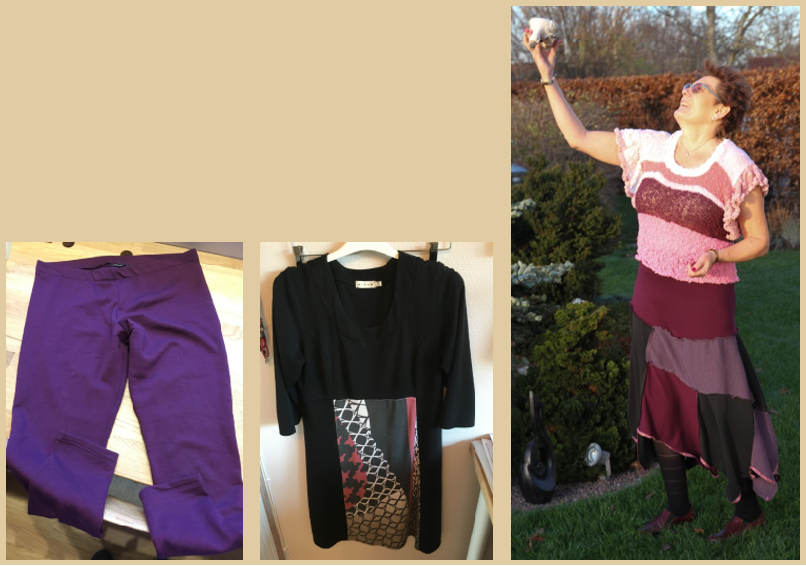 A tieskirt
At first it was a jacket. Then I cut the jacket in half. Now it's a skirt and you can zip it upside down and downside up. I think ties are fun to work with because they tell so many stories. Both serious and fun stories. All the ties that I've used in my redesigns are washed and ironed. If you like the tie design then you can look forward to many more redesigns including ties. The skirt has also been washed and I recommend that you wash the skirt in a laundrybag on a Woolprogram because some of the ties are made of Silk. You only need to iron the smooth lanes and then I recommend to place a damped piece of cloth over the ties before you iron them. Waist: 98 cm. Length: 62 and 78 cm.
Price: 495 DKK. Itemno.: 2020-02-06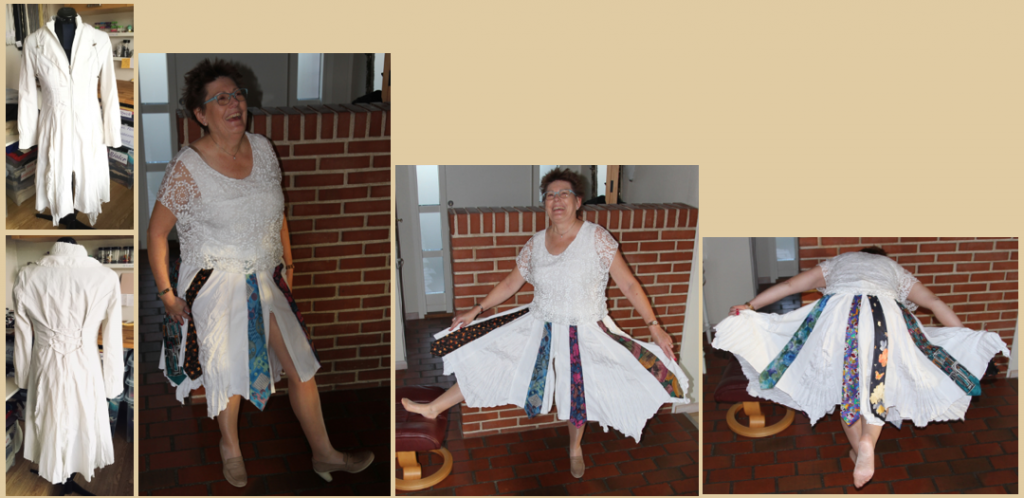 From buttons to zipper
Originally this imitation suede had buttons in the front. By replacing the buttons with matching fabric and a zipper I increased by at least a couple of sizes. Length: 53 cm. Waist: 97 cm. I recommend wash in 30 degrees delicate wash, preferably in a laundrybag due to zipper and laces. Remember to close the zipper before wash.
Price: 425 DKK. Itemno.: 2020-02-34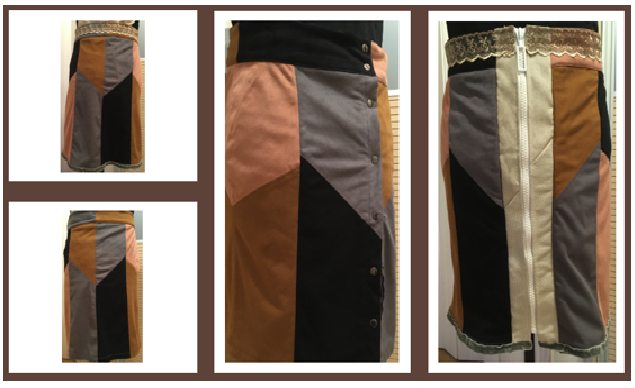 From long partyskirt to short skirt now suitable for job as well as party
I shortened the skirt and kept the linnen and the outer chiffon. In order to protect the chiffon I added a velvetband. The linnen is made by the heavy fabric from the corsage and thus gives a good firm feeling and a good grip on the fabric as such. I've added various ties beneath the chiffon which gives a cloudy view to the ties. Length: 52 cm. Waist: 82 cm. Zipper at the back.
Price: 425 DKK. Itemno.: 2020-02-29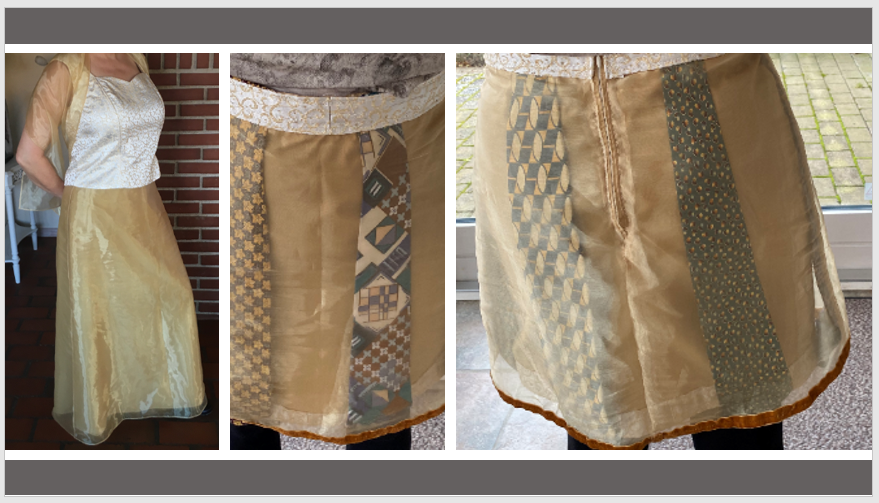 Skirt made of furniturefabric
This skirt is made of two different pieces of furniturefabric. The linnen is from another skirt. The new skirt has a blue zipper in the left side, opening top-down and an orange zipper in the right side opening down-up. The skirt has been washed on a 30 degrees delicate program and thus it will keep the shape it has now. Remember to close both zippers before wash. In addition I recommend that you wash the skirt in a laundrybag. Further details on the blouse, look under: BLOUSES. Waist: 92 cm. Middle of the skirt: 106 cm. Length: 49 cm.
Price: 425 DKK. Itemno.: 2020-02-44

From a pair of piratepants and a skirt to a new skirt
In my mind these piratepants was quite ordinary and I decided to combine them with a skirt. Waist min: 66 cm. Waist max: 90 cm. Hips: 90 cm. Note that the lace is not elastic. I recommend wash in laundrybag due to the laces and the fabric is very silky like. 30 degrees delicate wash.
Price: 325 DKK. Itemno.: 2020-02-50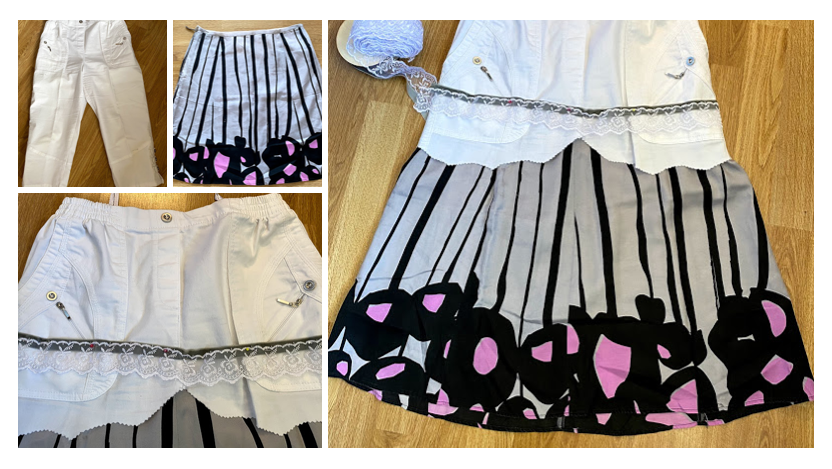 Two ordinary skirts became a new colourful skirt
This sweet and very ordinary Jeansskirt is now combined with another sweet summerskirt. The Jeansskirt is made of 75% Viscose and 25% Cotton. The other skirt is made of 100% Cotton and has much more width. Waist: 82 cm. Hips: 106 cm. Length: 83 cm.
Price: 325 DKK. Itemno.: 2020-02-52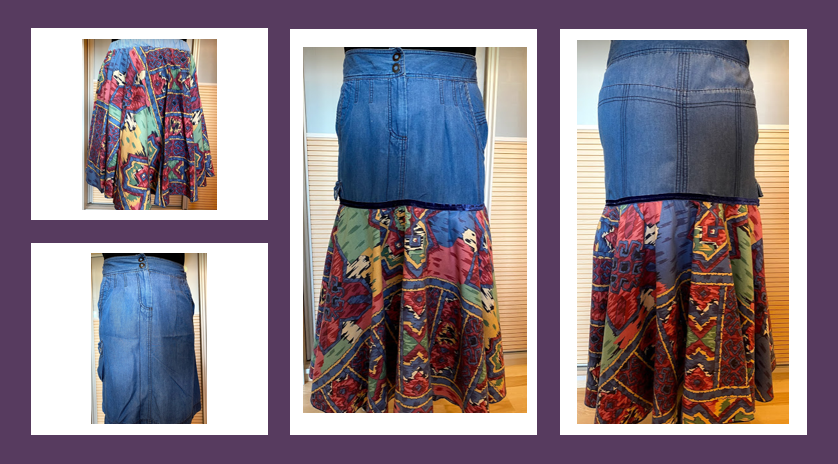 ---