---
INDEX  – Guided tour on how to benefit most, when visiting my website. Enjoy 😊
---
Alongside working in the labor market, I've always redesigned my own clothes. And way back then neither "upcycling" nor "Redesigning" were known processes. Today I find "Re­design" used on a regular basis. As you will soon discover from my collection of Redesigns, I prefer working with a lot of colours, especially purple and pink are my own favorites. I soon discovered, that a nice piece of lace or a zipper, added either for fun or with a purpose, could make a whole lot of difference to a piece of cloth. Besides, I've always found it very difficult to throw out my own clothes. The thing is, that I get emo­ti­onally attached to almost all my clothes. I know, it sounds a bit crazy, but nevertheless, that's how I feel. In addition to my emotions, I've almost always chosen to buy clothes of a good quality ie. it's more durable in the long run. And much easier to include in my Re­designs. Later I learned how to increase clothes by a few cm and thus prolonging the lifetime of my clothes.
A happy amateur
Having said that, I want to emphasize that I am but a happy amateur, and as such I do not have any education neither within tayloring nor sewing. And it is not my intention to take any kind of further education within these ares, even though I've decided to focus a lot of my sparetime on being creative in as many ways as I possibly can. I strongly believe that my quirky approach to the things I produce, is what makes my redesigns characteristic, and by learning to do things "the right way" I'm afraid I will lose just that. I know that entails having to redo a lot of what I do, but I see it more as gaining experience than waisting time.
Besides all the recycled clothes that I've redesigned, and which I love to do, I've also made some very nice cushioncovers and some fun snugglerings. But it is, and will always be, as a happy amateur.
When I was apprentice as office-assistant at Bang & Olufsen in 1979, I had not seen it coming, that one day I would redecorate one of our rooms into a creative workshop, filling it with lots of fabric, yarn, needles and threads and a very old sewingmaching, zippers, lace by the meter and much more. And even though I decided to keep it on hobby level, as opposite to a small entrepreneur project, I really enjoy working with various creative solutions whether it's about Redesigning clothes, making cushion-covers, knitting snug­glerings and much much more.
I've always appreciated knowledgesharing and learning new tips and tricks. Whether it was on the job or private. This is also the reason for establishing my monthly creative workshops. This enables me to meet people sharing my passion for creative work and at the same time achieving the same goal as working with my professional networks.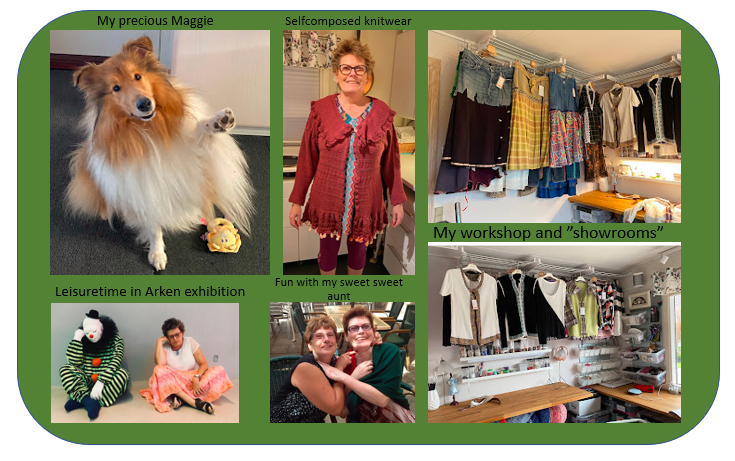 WHY
After 41 years in the labor market as secretary, I needed a new approach to my everyday life. Since it was not my decision to stop and as I was "only" 58, I felt it was a bit too soon to settle with a book or taking Maggie for walks. Not that there's anything wrong with that, but I've always had a purpose in my various jobs and suddenly I needed to create a new "me". My health issues prevents me from taking on other work tasks outside of my home, which is why I decided to work as much as possible with my creative side from my home. And it felt natural to share my hobby with others.
Even though I've had this as a hobby for quite a while, I also needed some structure and semi professional set-up. Maybe due to my Secretarial gene. I wanted to be prepared, should I get fortunate enough to have customers one day. After that it didn't take long before I joined an Entrepreneur-seminar which was in the Autumn of 2018. During these 4 months I met a group of creative people and was inspired regarding the administrative and the PR-part, as well as finding the cou­rage, to be able to welcome you to see all my Redesigns.
HOW
I combine my inspiration based on Magazines, shop-windows, the Pinterest app, the fa­brics, yarn and colours which I prefer to work with. I also ask family, friends, my newsletter subscribers etc, about what they like, and what they cannot find when going into ordinary shops.
WHO
When I'm not working in my creative workshop, I enjoy sharing my life with my husband, who happens also to be creative through his beautifull Woodwork. I also love to teach our magical collie; Maggie new trics, taking her for a walk and recently I started taking her with me alongside when I'm biking. Which she's actually very good at. Maggie is our 3rd dog. Mulle was a mix of Schnauzer and afghan greyhound. After Mulle we had Sascha, also a collie. Many years ago I chose not to have children of my own, and instead I was lucky enough to marry into children. In addition I've become an aunt for my three ne­phews, I enjoy my husbands grandchildren and recently a great grandchild. I have a sis (sister in spirit) in Seattle, whom I met on a holiday in 2010 and I'm Abla to the children of our Turkish friends. All in all something I'm very proud of and enjoy emencely.
In light of my healthissues, I cannot help but wondering whether I've made the right deci­sions throughout my 41 years in labor market. And yes, I know I cannot change anything today, but IF there was one thing, I could do all over again, I think I would have looked more into becoming an Entrepreneur when I was younger. With CVR no etc. I did actually consider it 21 years ago and I even participated in a seminar. But I soon realised, that I didn't have the financial space to make it happen. Back then there was not the same kind of support, as is today and I'm happy to see how many Entrepreneurs that actually fullfill their dreams nowadays. Despite the energy, strength and financial space it takes until you have enough customers to be able to pay your own salary.
Do you have a bucket-list? I have 4 very ordinary things on mine:
SOME DAY
I believe of having dreams, and setting goals. And one day I hope to have the energy to be able to make my Redesigns based on your specific wardrobe. My dream scenario is for you to bring the clothes you're no longer using, or I come to your house, and together we find out, what it will take for you to be happy to use your clothes again. Based on your requirements and wishes, I make Redesigns to fit your life and needs. I'm half way there, because you will already be able to find semi-taylored-Redesigns, ie. I've prepared some and you can decide the rest, depending on your specific measurements. Fingers crossed.
WHEN
You're most welcome to drop by, just call or mail me beforehand, and we'll find a time and date. My mobile phone is: 4082 9038 and my mail: fiefit@outlook.com. My workshops are usually held on the last Monday each month, with only few exceptions, and always from 14.00-16.30 CET. You can find a calender for 2022 under EVENTS.
WHERE
My adress is Horseløkke 15, 4622 Havdrup and my Redesigns are also available on Pinterest – Instagram – LinkedIn -And remember my Newsletters which I send by mail about once a month.
---