I've always appreciated reading about what makes people change careerpath. Often it's due to mysterious events and sometimes it's due to health challenges. And when I read the story behind the decision it makes sense. And after 41 years in the labor market, I had to decide what to do with the next 41 years of my life. I've spent the major part working as PA, secretary or someones assistant of a kind and I've had various tasks and experiences in 9 different businesses.
When I was apprenticed from Bang & Olufsen in 1979, I hadn't seen it coming that 41 years later, I would change a room into a workshop filled with fabric, yarn, needles and threads, an old sewingmachine, zippers, laces and whatnot. And even though it became a hobby instead of a "real" job, I've learned that I'm actually creative and have a talent for redesigning old clothes. It's one thing to redesign your own clothes, but to redesign clothes intended to sell and to fit others; well, that's another story.
It's no secret that I would have appreciated if it had been my own decision to stop working. And it took me many years to come to terms with my new role in life. Very soon it became clear to me, that I had to find another identity outside the labor market. I've always had a very structured mindset and it was natural for me to learn more about being an Entrepreneur, in case a customer should drop by. Within the first year of my "new life" I participated in a 4 months Entrepreneur seminar, met a lot of creative people who quickly made me realize that this could actually work.
My source of inspiration is based on Magazines, shopwindows, Pinterest, and then I love to combine all this with fabric, yarn, shapes and colors. I try to get as much inspiration as possible from family, friends and really everyone, in order to find out what they like, what is not available in shops etc etc. And I do have a lot of imagination.
When I'm not working in my workshop, I'm enjoying life sith my husbond through 38 years, which by the way is very creative in his own way when his making beautifull woodcraft.
And then I have my amazing Collie; Maggie that I enjoy learning new tricks, playing and taking for long walks. Lately we've also started biking together, which she's actually very good at. Maggie is our third dog; Mulle was our first dog. She was a mixed breed and she lived until she was 15,5 years old. Our second dog was Sascha, also a collie and we followed her to the rainbowbridge when she was 12 years old.
I have no children of my own, but I've married into a boy and a girl because my husbond is older than me. In return I've become an aunt to my 3 Newphews, grandmother, nanny, rainbow-mum, Abla and sis (sister in spirit) to an amazing American woman, whom we met on a holiday in 2010. And I do appreciate all these "titles".
I love knowledgesharing which is why one of my clear goals is to create the conditions for some fun and educational workshops and guestspeaker-events. This is my way of maintaining dialogue with new people, as the alternative to the channels I had when I was working.
Do you have a bucket-list? I have 4 very ordinary things on mine: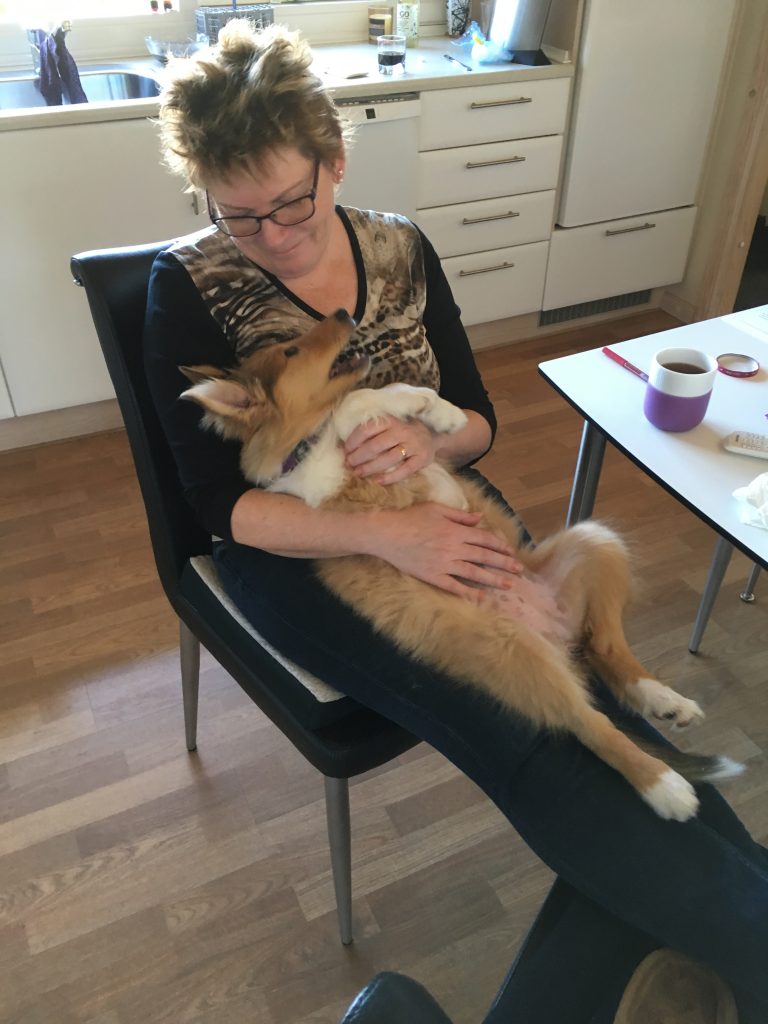 ---