---
INDEX  – Guided tour on how to benefit most, when visiting my website. Enjoy 😊
---
When I was still working, I always appreciated knowledgesharing and networking, and I know that is one of the things I'll miss since I retired. Learning new things, getting new impressions of areas that are new to me, has always teased my curiosity. By inviting to creative workshops, I hope to be able to fill out that void in my life.
---
Covid-19 restrictions
We welcome you to our home, provided you are in good health and has no Covid-19 symptoms. If the infectionrate increases again, or we're getting new restrictions, we will of course adapt accordingly.
---
Creative workshops in 2022
My workshops will be held on the last Monday in each month, with only few exceptions. The timeslot will always be from 14.00-16.30 CET.
# 13 – Monday, September 26th
# 14 – Monday, October 31st
# 15 – Monday, November 28th
# 16 – Monday, December 19th
Registration to fiefit@outlook.com and/or text message to +45 4082 9038, preferably as early as convenient
Creative toolwork
Please bring your knitwear, crochetting, jeweldesign or any kind of creative work that might bring inspiration across the table. If you have some clothes, that you want to Redesign, then feel free to bring it, and let's see if you can find some inspiration to bring life back into your old clothes. Sometimes it's a lot easier than you think. In addition I have lots of used clothes to cut in, and to play with before you cut in your own old clothes.
Leisuretime with knitwear, crochetting and lots of laughs
My idea with these workshops is to find, and give, inspiration to and from other creative people. And I expect us to have a lot of interesting dialogues, knowledgesharing and most of all some good laughs.
DIY inspiration
A good advice is free of charge. Maybe you can find some inspiration in my Redesigns and then we can carry it out in one of my workshops. If you're not up for DIY, you are most welcome to purchase one of my Redesigns instead.
Small and cozy workshops
In order to get the most out of all the ideas, we will be max 4 persons at my creative workshops. Depending on infection rate of Covid-19, because we all need to feel safe and to uphold the recommended Covid-19 restrictions. When you register, I'll send you a text message 1 week prior to the workshop and also a day earlier than the specific date. If you're prevented from joining, please let me know asap, in case I have more people wanting to participate.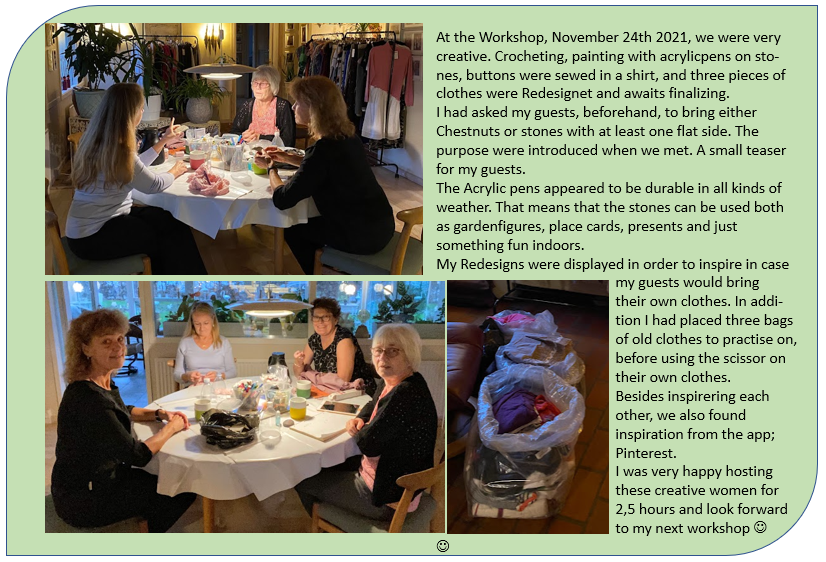 FieFit Redesign homeparty
Homeparty outside your own home
Are you familiar with the concept of Friendtex hjemmeparties? If you havent heard of it, you might know of Tupperware parties? Friendtex is a brand which exists as onlineshop today. I've hosted quite many Friendtex homeparties and I've even participated as a model for some of my friends who where Friendtex ambassadors. I remember these occasions as fun and cozy, but also a place for trying on designs that none of us would have dreamed of trying on when going shopping elsewhere. Which is why I'd like to revive the concept.
DIY room for creativity to redesign your own clothes
How would you say to host a FieFit Redesign hjemmeparty at my place? If you can invite up to 4 guests ie. we will be a total of max 6 persons, then I'll make some coffe, tea and icewater. Feel free to bring wine, chips or cake. The idea is for you and your guests to dive into your wardrobes and bring the clothes that you're no longer using. Then I will show you and your guests some of my redesigns, and based on those we can talk about how you can redesign your own clothes. I'm sure you will find that it doesn't always take neither time nor energy to be able to enjoy your old clothes again.
Registration
If you like the idea, please let me know. Then we'll find a day from 14.00-16.30 CET. The only thing you have to ensure beforehand, is that both you and your guests are in good health and has no Covid-19 symptoms.
---