Jacketdress
This Jacketdress started out as a long jacket. I cut it in half and kept the lining. It's not a "Coat of many colours" but a coat of multiple choices. Wear it as an open summerjacket or zip it and use it as a Jacketdress or with a pair of leggings. As most of my redesigns, I've washed it on a Wool program and in a laundrybag. Fabric: In Danish we call it parachute fabric. Breast: 100 cm. Length: 100 cm.
Price: 425 DKK. Itemno.: 2020-02-04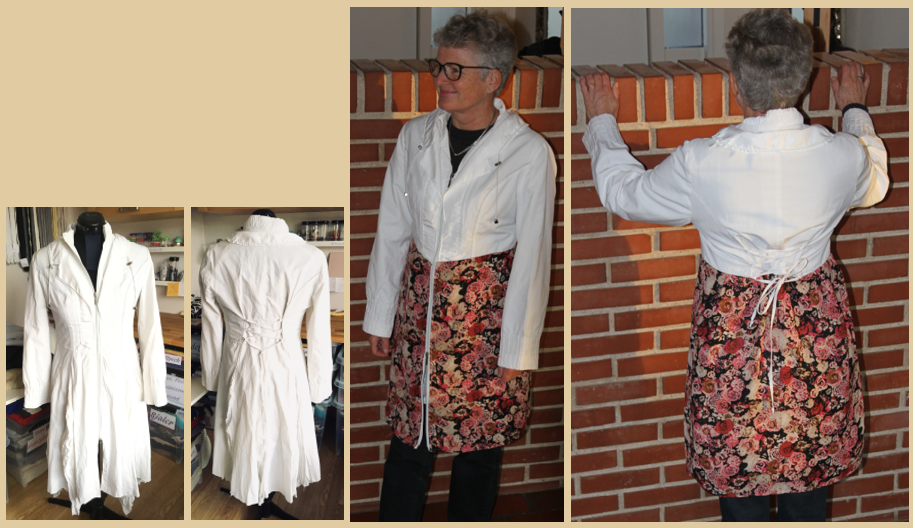 Black jacket added colours and buttons
This jacket is soft and so nice to wear, but I thought it was quite boring and too black. I then added a band on the collar, changed the black buttons with some fun and coloured buttons maching the collar. Breast: 110 cm. Fabric is elastic. Length: 62 cm.
Price: 295 DKK. Itemno.: 2020-02-40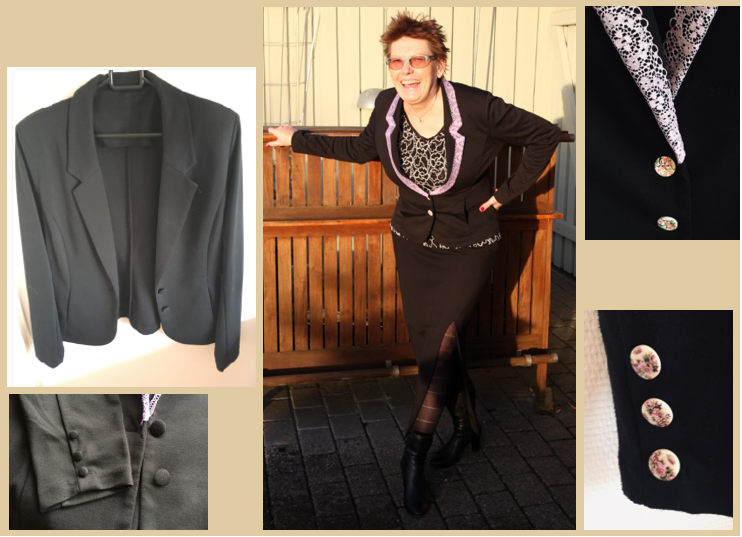 ---
Tunic or dress
A very elegant knitted blouse, has been redesignet by adding it to a summerdress made of pure cotton. The knitted blouse has been cut at an angle and then I've added the summerdress. The lenght has been adjusted to make it even all way round. The seam are marked with funny buttons made of wood. In the left side of the knitted blouse I've added a zipper in white and gold. This way it's easier to put it on, and also to leave it open while wearing. When it's open you can place a broche in the front to keep it open. The summerdress are in two layers in a sort of crepe cotton. The knitted blouse is very thin and esqusit, I'm guessing it's a mix of wool and silk. Beams are added on the blouse in the same colour as the blouse. Breast: 104 cm. Measure from the peak of the knitted blouse and across: 130 cm. Length: 100 cm. Due to the fabric I recommend that you wash this dress on a Wool program and preferably in a laundrybag due to the beams, zipper and buttons. Remember to close the zipper during wash.
Price: 275 DKK. Itemno.: 2021-02-66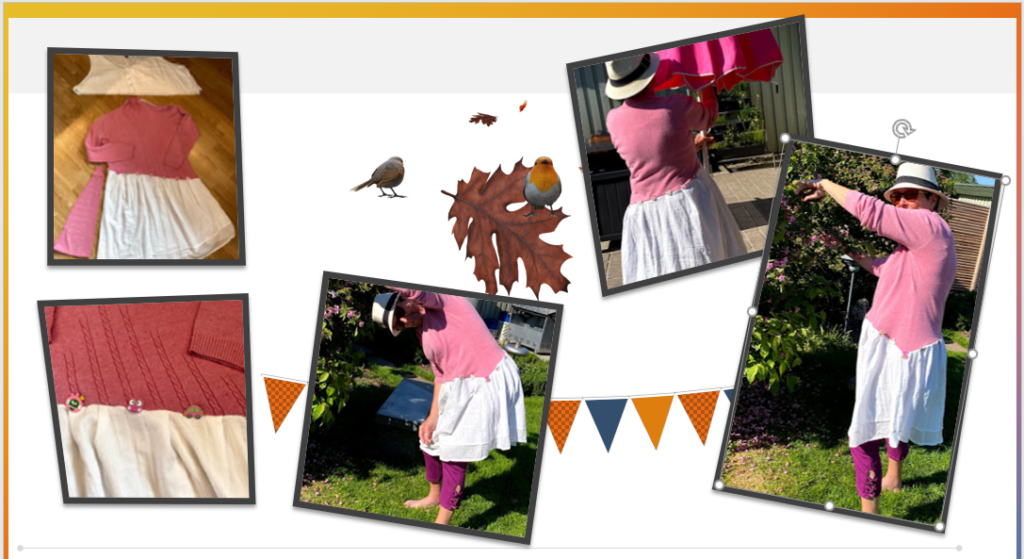 Shawlblouse/kimono onesize
A funny combination of laces and our old livingroom curtains. Length: 89 cm. Total width 150 cm. Made for the Petite size who'd love to feel just a tiny bit bigger and for a Curve and Plus size who might want to let go of the big black shirt. I've added buttons to mark the sleeves and they can easily be removed or adjusted. Washing instructions: In a laundrybag and on a wool program.
Remember that your great grandmothers table cloth made of lace, curtains, shawls and similar can easily be redesigned to something like this, a shirt, a blouse and much more. So do not throw it out. At least not before you've shown it to me and maybe we can come up with something real nice for you to reuse and to remember your great grandmother by.
Price: 495 DKK – Itemno: 2020-02-07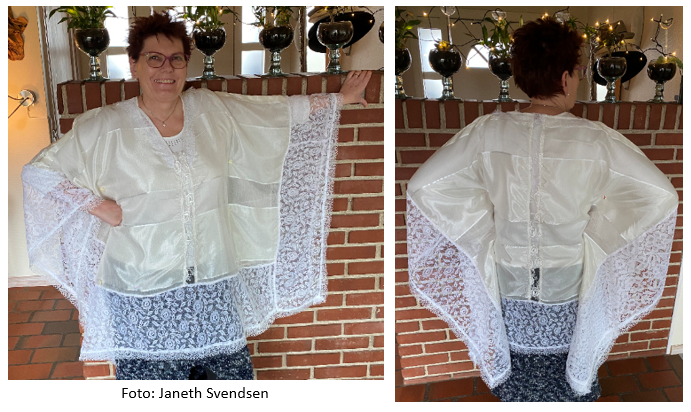 Keep an eye on this page because I have a lot of ideas like this for my pashmina shawls. Or you can subscribe to my newsletters and you'll be the first to know, when I update this page.
---