---
INDEX  – Guided tour on how to benefit most, when visiting my website. Enjoy 😊
---
Knitted outdoor skirt
This skirt is knitted from various types of left over yarn. I've added a huge linnen which makes it wearable outdoors and in wintertime. The waistline has an elastic inside. Waist: 86-92 cm. Length: 85 cm. Corresponds to approx. size 44. Find more Redesigns in your size HERE. Washing on wool program and in a laundrybag due to the varity of yarns. This will keep the shape, softness and airiness intact. Washing on 60 degrees delicate wash makes the knitting more tight and less soft.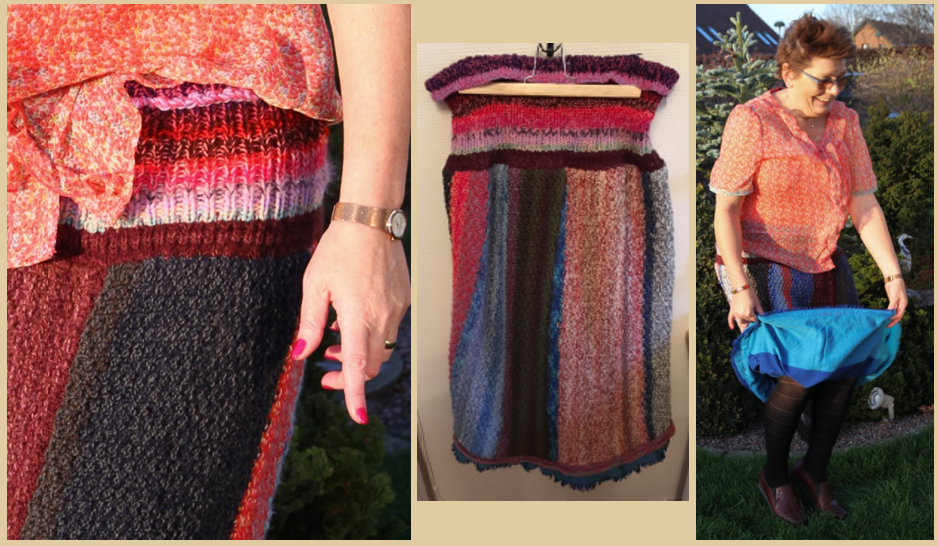 ---
From black and simple to black and feminine
This very simple black skirt was missing something. Maybe a bit of colour or at least something to make it more fun and femine. She skirt consists of two layers. The outer layer is a bit transparent and I found a way to make use of that. I added a lace on the lower part of the inner layer, and found another lace that was almost similar but only a bit wider, and added that to the lower part of the outer layer. Now you get a glimpse of the inner lace at the same time as you clearly see the outer lace. As you can see, it didn't take much effort to get a more fun and feminine skirt, which even has a bit more swing because of the lace.
---
From squaredanceskirt to tight skirt
This fabulous squaredanceskirt, cut round like a sun, had 2-3 layers of fabric. This was combined with another skirt that fitted the hips tight. Both skirts were cut in half and the other half can be reused into new skirts. Remember to reuse linning and pockets. As demonstrated in the pictures below, I shortened the skirt by hand and as you can see, not even that makes it perfect. To make the innerside a bit nicer and less uneven, I added a ribbon on top at the end. On the outside of the skirt, it was easy to see that I'd sewed by hand and therefor I added a lace on the transition between the two skirts.
---
Adding a bit feminity to an ordinary Jeans-skirt
I love this skirt, but having used it for several seasons, I wanted to add some changes to it. I found a matching lace and sewed it onto the lower edge. When washing lace, always use laundrybags to keep it safe.
---
From my husbands sweater to a knitted skirt.
I'm sure a lot of closets has old knitted shirts, that are not used today. Maybe they're to small or to big or no longer trendy. This shirt was turned upside down, I cut of the sleeves and added some of the sleeves to the linnen. Usually it's a good idea to use shirts that are to big for you, because you have to include space for the sewing. The sleeves might also be redesigned as legwarmers like THESE.
---
From oldfashioned and boring to vintage
It all began with a skirt in a solid colour. Bought in a recycle shop for 30 DKK. Then I added some few roces and a lace on the lower edge.
---
Two ordinary skirts became more colorfull
Combining these two skirts, that I never wore, I suddenly had a new skirt with a much more sophisticated design. Always reuse linnings and zippers. Sometimes wastebands with rubberbands makes your waistline look big. And that is not necessary.
---
A black heavy skirt, very ordinary and stylish. To ordinary if you ask me. By adding ties, it made this skirt fun to wear and by wearing it I always get funny remarks. Below I show you examples with both 2 and 4 ties.
---
A pair of worn-out pants + a skirt = new skirt
My old pants was worn-out on the lower part of the legs. And this yellow and black skirt had an awful shape in the waist. By using the slim waist, that fitted me perfectly, I kept the skirt and its linnen.
---
Knitted skirt with sequins
This skirt is knitted of 100% Viscose yarn with sequins. I've prepared for inserting elastic in the waistband, or you can leave it out, just as you please. I recommend wash in a Woolprogram and in a laundrybag. Place it on a table to dry on a towel. You'll find the recipe HERE. Lenght: 89 cm. Waist loose: 88 cm. Waist slightly stretched out: 100 cm. Corresponds to approx. size 44/46. Find more Redesigns in your size HERE.
---