From squaredanceskirt to tight skirt
This fabulous squaredanceskirt, cut round like a sun, had 2-3 layers of fabric. As amazin as it was, I couldn't use it as is. And then I had a tight skirt with slit and linnien. A little too dull and ordinary. But combining the two it transformed into a skirt that fitted the hips tight and gave a slim impression above and with swing and width below. A great composition of these fabrics. I've even managed to set aside a lot of the fabric from the squaredanceshirt to make a third skirt. Prior to cutting in the tight skirt, I ensured that linning and pockets were set aside, in order to be reused in the new skirt. Then the tight skirt was almost cut in half and in a curved shape. Should you decide to work with a skirt with as much width, please take your time. It's not easy. At least it wasn't easy for me because the fabric was cut in a way that made it almost impossible to sew by machine. As demonstrated in the pictures below, I therefor shortened the skirt by hand and as you can see, not even that makes it perfect. To make the innerside a bit nicer and less uneven, I added a ribbon on top at the end. Even though the linnen partially will hide the sewings and irregularities. On the outside of the skirt, it was easy to see that I'd sewed by hand and therefor I added a lace on the transition between the two skirts.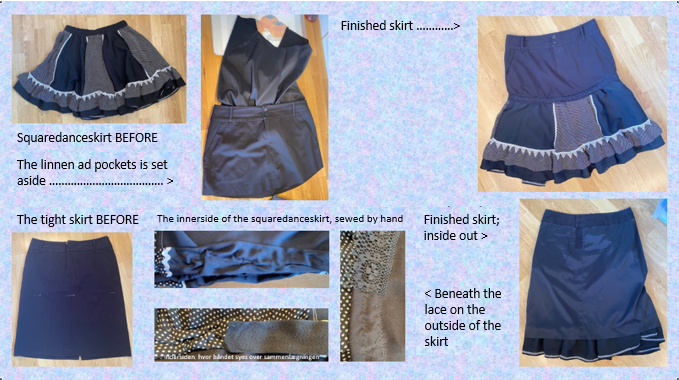 ---
Adding a bit feminity to an ordinary Jeans-skirt
I love this skirt, but having used it for several seasons, I wanted to add some changes to it. I found a matching lace and sewed it onto the lower edge.
From my husbands sweater to a knitted skirt.
I'm sure a lot of closets has old knitted shirts, that are not used today. Maybe they're to small or to big or no longer trendy. This shirt was turned upside down, I cut of the sleeves and added some of the sleeves to the linnen. Usually it's a good idea to use shirts that are to big for you, because you have to include space for the sewing.
From oldfashioned and boring to vintage
It all began with a skirt in a solid colour. Bought in a recycle shop for 30 DKK. Then I added some few roces and a lace on the lower edge.
Two ordinary skirts became more colorfull
Combining these two skirts, that I never wore, I suddenly had a new skirt with a much more sophisticated design.
A black heavy skirt, very ordinary and stylish. To ordinary if you ask me. By adding ties, it made this skirt fun to wear and by wearing it I always get funny remarks. Below I show you examples with both 2 and 4 ties.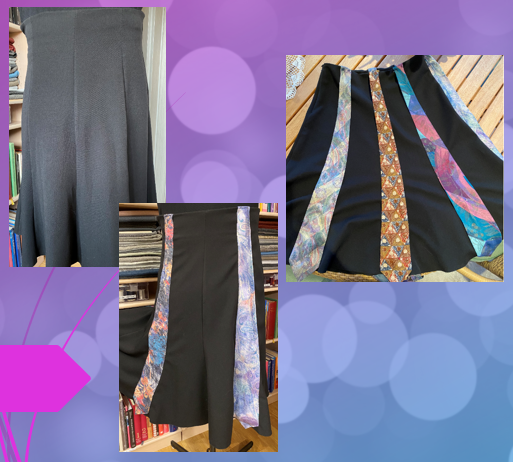 A pair of worn-out pants + a skirt = new skirt
My old pants was worn-out on the lower part of the legs. And this yellow and black skirt had an awful shape in the waist. By using the slim waist, that fitted me perfectly, I kept the skirt and its linnen.
---