---
INDEX  – Guided tour on how to benefit most, when visiting my website. Enjoy 😊
---
For car holidays
When we go on car holiday, we often have a lot of airpockets, because of the variation of sportsbags, trolleys and whatnot. This is why I came up with the idea to measure our trunk and sew custommade bags to ensure that all the space is used. Now we place 3 bags in two rows up against the backseat ie. 6 bags in total. In front of the bags we pput shoes, toiletry bags and other luggage of skewed sizes. Inside the car, on the hat shelf, there's room for two more custommade bags. Which is perfect when we are four people going on vacation.
---
To create structure in general
Big, small, round, long – you name it. Whatever it takes to make it easy to find your way in your suitcases, closets and drawings.
---
For skibox or cabin space on board the aircrafts
Sometimes our trolleys or bags can be quite heavy to lift up into either skibox or cabin space when we're flying on vacation. Take measurements of your skibox and design light bags for your specific luggage. Or design your own cabin space bag which is easy and handy to lift up for future vacations. I've got lots of various fabrics and you're also welcome to bring your own. I'm sure if we put our minds to it, then we can create just the bag/s you've always wanted.
Below is an example of one of our own travelbags when we go on car holidays. Waterproof. No linnen. Very light. Width: 57 cm. Hight: 43 cm.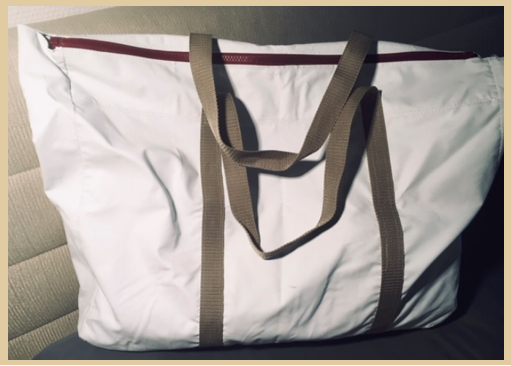 ---
Computerbag
This computerbag is quilted and with inner linnen. Width: 37 cm. Hight: 25 cm.
For sale at a price of 75 DKK. Click and buy through my add in Trendsales, and have the computerbag delivered by DAO.
---