Four of our gardenchairs had an usual shape which made it impossible to find new garden cushions to replace the old that was worn out. Instead we found a supplier who cut four foam cushions in the shape and thickness that we needed. And then I sewed covers with zippers.

---
The cushions on 6 of our other gardenchairs were also worn out. I used the old cushions as template to a cardboard model and sewed new ones after that. We kept the old cushion under the new ones in order to maintain the shape and firmness. I still have a lot of furniture cloth, if you want to see if you can find something for your own garden cushions.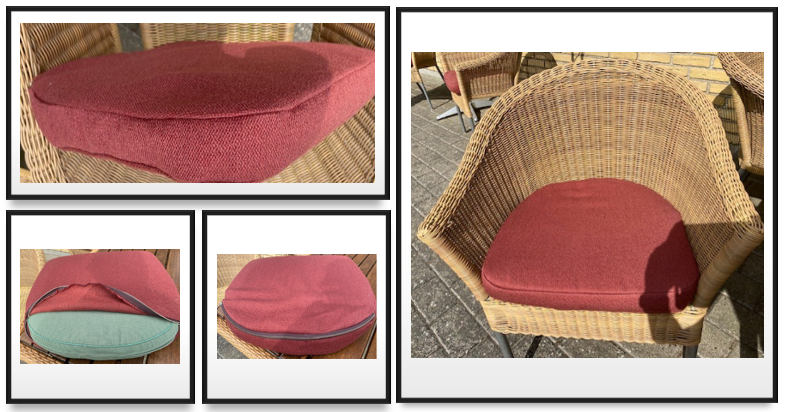 A similar solution for your specific gardencushions, without the foam, can be made at a price of 350 each plus zipper. Depending on the thickness and size. You're welcome to bring your own zippers and maybe I have some we can use. Instead of buying new foam, you might have some old gardencushions that we can reuse or maybe you can find some cheep ones that we can upcycle to look fabulous.
---
From Sarong to sofa cushion
My customer once bought some fabulous fabric in Thailand intended for a Saron. One day the fabric turned up from hidings and she wanted to use the fabric to four sofacushions instead. My customer had two pillows of Down. I quickly found out that there was enough fabric to make four cushions and I sewed an innercover for the extra two pillows. All four pillows were added zippers. As the fabric is very fragile I recommended my customer always to wash in laundrybags and with the inside turned outside of the fabric during a delicate Woolwash. And with the zippers closed. This will protect and keep the cushions pretty. A similar solution can be made at a price of about 600 DKK for all 4 cushions.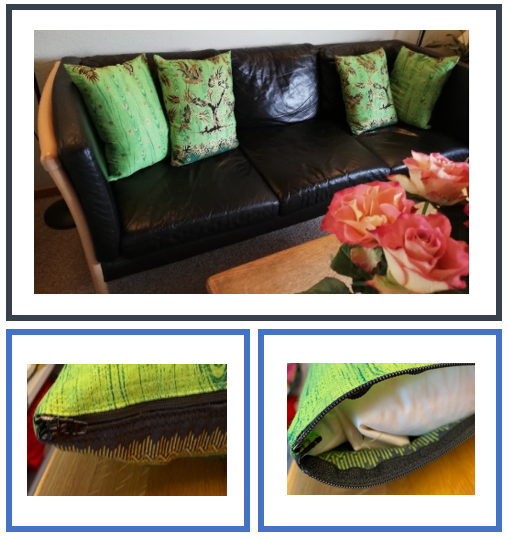 ---
---