---
INDEX  – Guided tour on how to benefit most, when visiting my website. Enjoy 😊
---
6 covers for sofa cushions
For this task I received one big piece of fabric of 135 x 218 cm. The fabric is upholstery fabric matching the sofa in which the cushions are intended. The customer wanted four cushioncovers á ca 45 x 45 cm and two cushioncovers á ca 60 x 60 cm. Upfront it seemed to be enough fabric for three small cushioncovers but I succeeded in piecing together a fourth cover, because I placed the application covering the frontseam. A bit of ironing on the back, made it look fine too. This meant that I used the entire piece of fabric, nothing wasted. Even though I was allowed to use my own imagination for the applications, I brought some blouses, shawls, broderi anglaise and blonds to the customer (who lives nearby), enabling my customer to choose the applications matching her interior. The choice fell on a fine cottonshawl, broderi anglaise and blonds. All six pillows have zippers in the bottom, my customer brought four zippers. Should the time come, to wash the cushioncovers, I recommend, that they are washed in a Wool program and in laundrybags. I've really enjoyed making these cushioncovers, especially because I had to decide applications and productiontime. Total price: 1.000 DKK.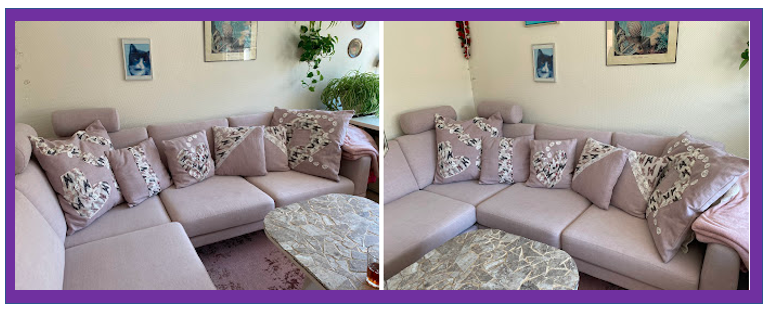 ---
Betræk til havehynder
Four of our gardenchairs had an usual shape which made it impossible to find new garden cushions to replace the old that was worn out. Instead we found a supplier who cut four foam cushions in the shape and thickness that we needed. And then I sewed covers with zippers. 

---
The cushions on 6 of our other gardenchairs were also worn out. I used the old cushions as template to a cardboard model and sewed new ones after that. We kept the old cushion under the new ones in order to maintain the shape and firmness. 
---
From Sarong to sofa cushion
My customer once bought some fabulous fabric in Thailand intended for a Saron. One day the fabric turned up from hidings and she wanted to use the fabric to four sofacushions instead. My customer had two pillows of Down. I quickly found out that there was enough fabric to make four cushions and I sewed an innercover for the extra two pillows. All four pillows were added zippers. As the fabric is very fragile I recommended my customer always to wash in laundrybags and with the inside turned outside of the fabric during a delicate Woolwash. And with the zippers closed. This will protect and keep the cushions pretty.
---