Homemade knitted sweaterjacket with belt
You just want to cuddle into this homemade knitted sweaterjacket. It's knitted of a mix of various yarns and thus I recommend that you wash it on a Wool program and preferably in a washingbag made of for instance an old pillowcase. Shoulderwidth: 73×2. Length: 130 cm. I'm guessing it corresponds to a size 56 or thereabout. But you need to try it on because it all depends on how you like it to be. It goes with a knitted belt which I'll adjust as you wish. If you want ribbons in the front instead, we'll figure that out too, I've put a lot of hours and love in the making and I'm really looking forward to finding the right buyer for this cuttly warmy sweaterjacket.
Price: 750 DKK. Itemno. 2020-02-27.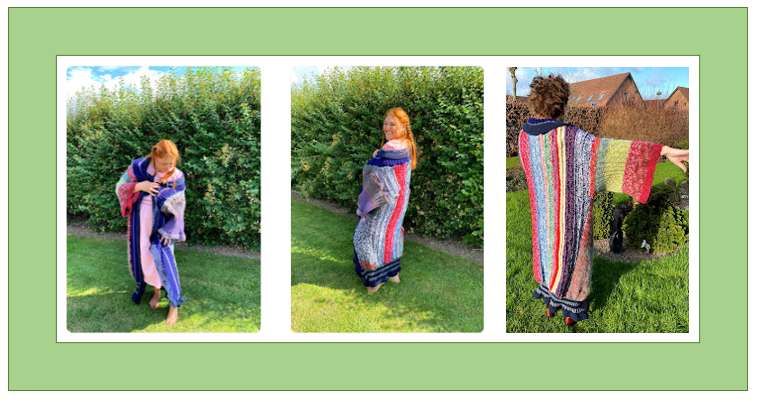 ---
Pink cotton blouse
This blouse is an example on how to increase size. The blouse was in a very good quality and by adding fabric both on the front, bag and sleeves, I increased the blouse by 2-3 sizes. The inserted fabric is originally a table cloth that matches the colors in the blouse. Breast: 122 cm. Length: 60 cm ie. an increase by 28 cm. The width in the sleeves are the same but the length is increased by 6 cm.
Price: 225 DKK. Itemno.: 2021-02-65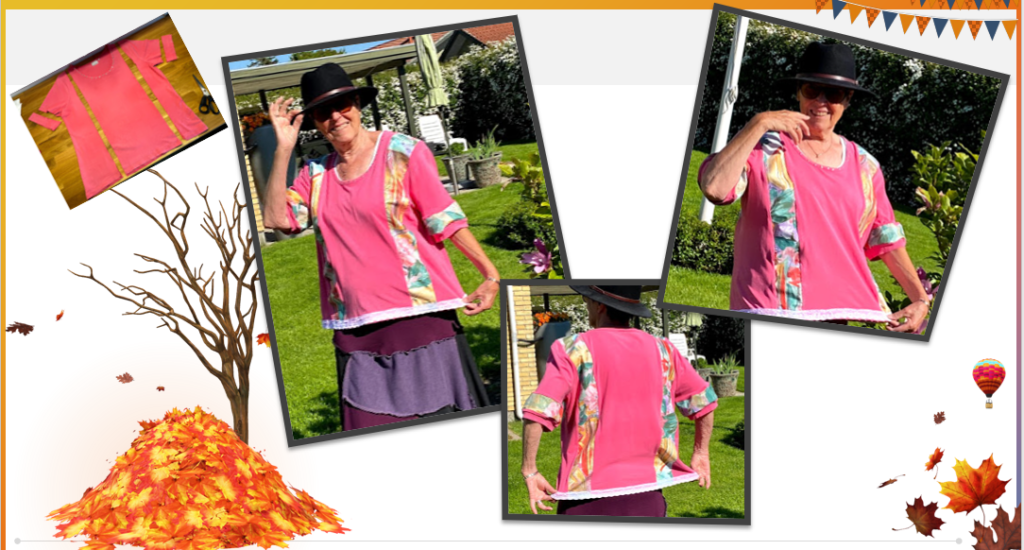 Poncho/sweater
After knitting this poncho I closed the sizes with a single button. Since it's left over yarn I'm guessing it's a mix of wool and Acrylic. Breast: 130 cm. Length: 85 cm. I recommend wash in a wool program, preferably in a laundrybag to ensure that shape and softness remains the same.
Price: 395 DKK. Itemno.: 2020-02-42.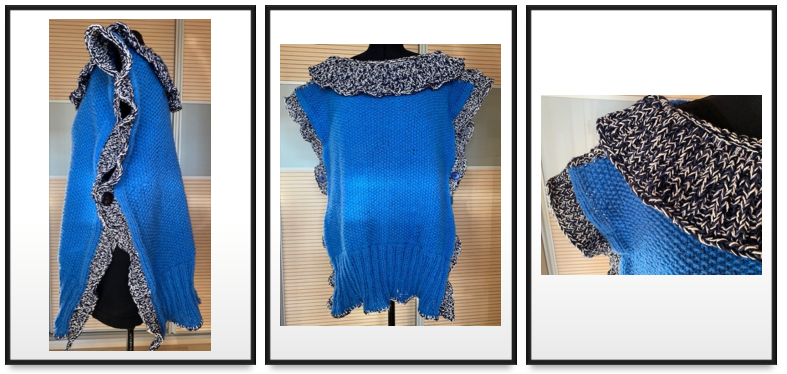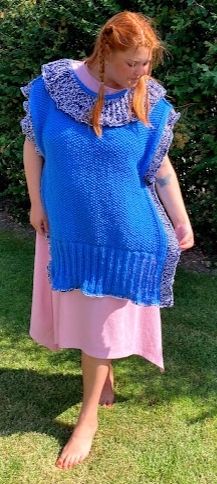 Cotton blouse
I've used both knitting and crochetting in the blouse. Various cotton yarns of left over yarn. And due to this I recommend that you wash the blouse on 30 degrees delicate wash or wool wash. Especially if you want to keep the blouse open and soft. Otherwise you can make it more firm if you wash it on 60 degrees. Hight: 67 cm. Breast: 130 cm. Hight on straps: 25 cm.
Price 225 DKK. Itemno.: 2020-02-43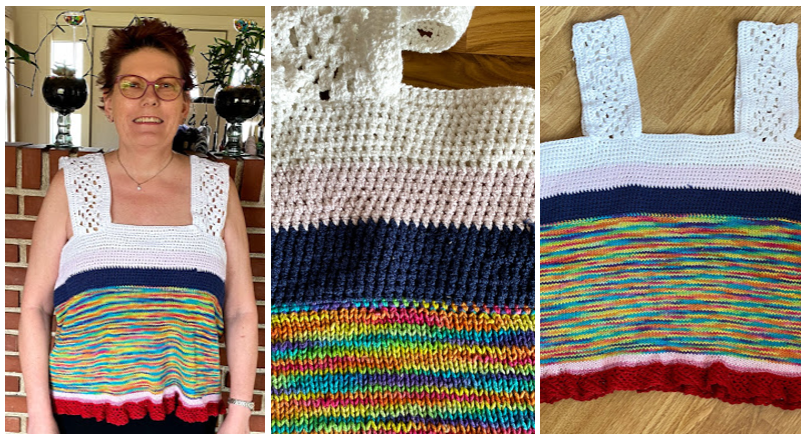 From ordinary to more feminine
In this blouse I added a wide black lace in the bag and front thus increasing with several sizes. The edges in the neckline is then added with a velvetband. Breast: 130 cm. Length: 70 cm. I recommend wash on 30 degrees delicate wash in laundrybag because of the lace but also the delicate material the blouse is made of.
Price: 395 DKK. Itemno.: 2020-02-28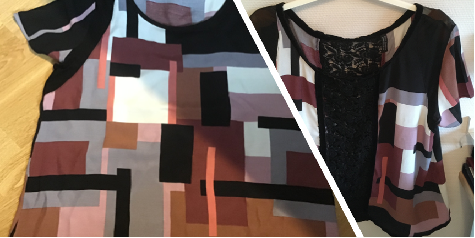 Petite (size 36 or below) and Curve & Plus size (46 and above)
If you can find time and would like to help me present this particular clothes in my collection, please let me know. If you do not wish to show your face, we can make some fun with hats or other crazy things. I'll guarantee we'll have a lot of fun making the pictures. I know I had when I made my first pictures. Some of my redesigns are semi taylormade ie. I only need to adjust the last details in order to make it fit the interested customer.
Also I would like to get your opinion of what kind of clothes you cannot find in the usual shops and I'll do my best to make it a part of my future collection.
---