Pink cotton blouse
This blouse is an example on how to increase size. The blouse was in a very good quality and by adding fabric both on the front, bag and sleeves, I increased the blouse by 2-3 sizes. The inserted fabric is originally a table cloth that matches the colors in the blouse. Breast: 122 cm. Length: 60 cm ie. an increase by 28 cm. The width in the sleeves are the same but the length is increased by 6 cm.
Price: 225 DKK. Itemno.: 2021-02-65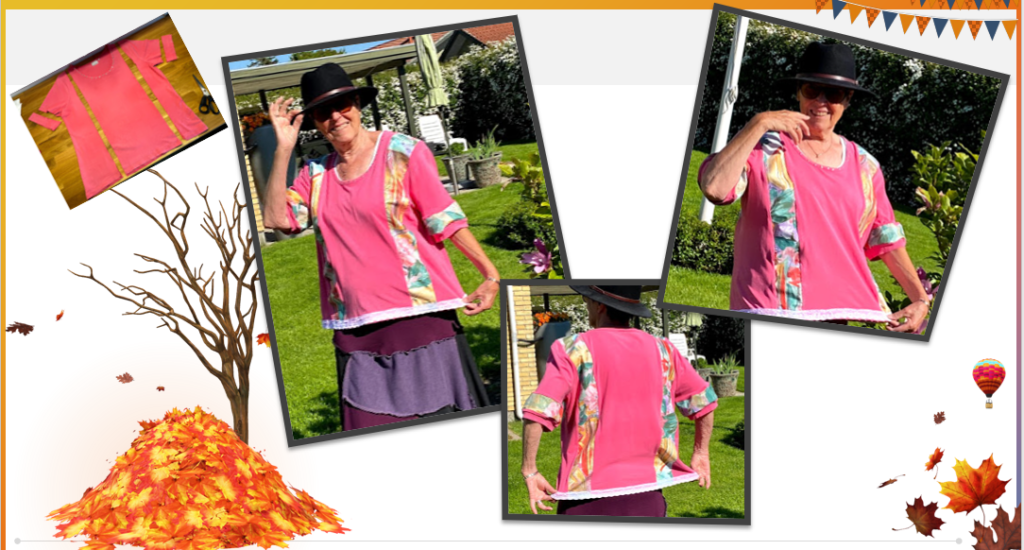 Poncho/sweater
After knitting this poncho I closed the sizes with a single button. Since it's left over yarn I'm guessing it's a mix of wool and Acrylic. Breast: 130 cm. Length: 85 cm. I recommend wash in a wool program, preferably in a laundrybag to ensure that shape and softness remains the same.
Price: 395 DKK. Itemno.: 2020-02-42.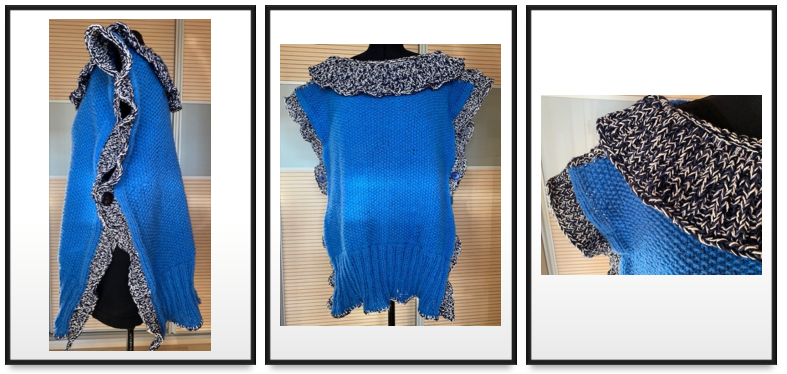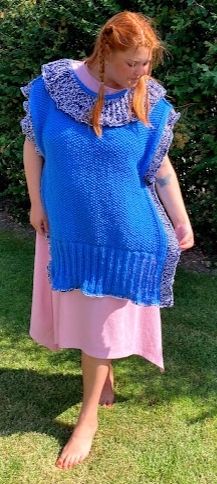 Cotton blouse
I've used both knitting and crochetting in the blouse. Various cotton yarns of left over yarn. And due to this I recommend that you wash the blouse on 30 degrees delicate wash or wool wash. Especially if you want to keep the blouse open and soft. Otherwise you can make it more firm if you wash it on 60 degrees. Hight: 67 cm. Breast: 130 cm. Hight on straps: 25 cm.
Price 225 DKK. Itemno.: 2020-02-43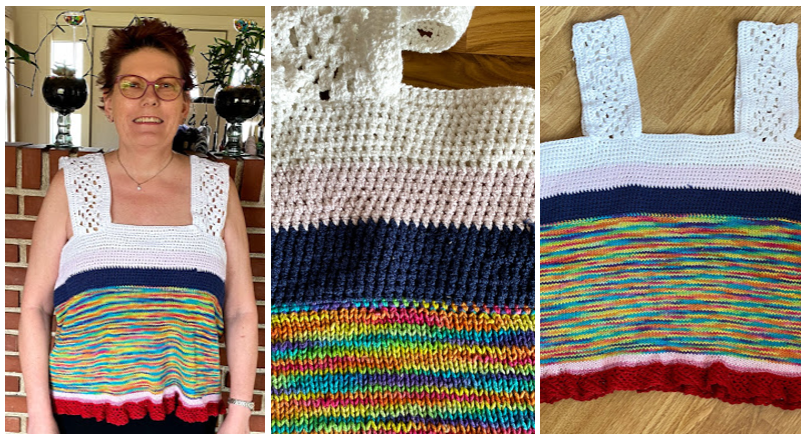 Skirt made of two worn out pants
This is an example of semi-taylored design. My husband had two pair of worn out pants. The fabric was a super cool cotton and I cut them both up, turned them upside down and thus used the parts that were less worn out. In the front I added a pocket with a zipper. I also added and up-down/down-up zipper in front enables you to make it open or closed as you please. The length will be finalized according to your wishes. And if you prefer the edge raw we can leave it as is or we can add a lace on the edge to make the ending more femine. Present length: 77 cm. Waist: 120 cm. Because of the laces and the zipper I recommend wash on 30 degrees delicate wash, preferably in a laundrybag.
Price: 495 DKK. Itemno.: 2020-02-32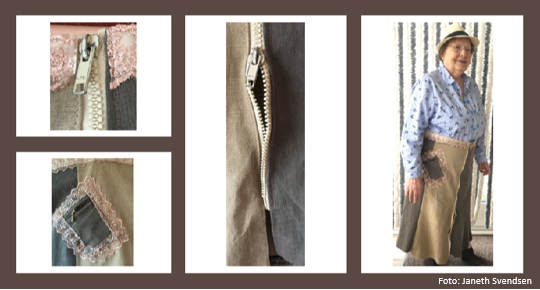 From ordinary to more feminine
In this blouse I added a wide black lace in the bag and front thus increasing with several sizes. The edges in the neckline is then added with a velvetband. Breast: 130 cm. Length: 70 cm. I recommend wash on 30 degrees delicate wash in laundrybag because of the lace but also the delicate material the blouse is made of.
Price: 395 DKK. Itemno.: 2020-02-28