---
INDEX  – Guided tour on how to benefit most, when visiting my website. Enjoy 😊
---
Collar and add on decorations
This yellow summerjacket is applicable with all sorts of clothes and also very nice to wear. But a bit boring, if you ask me. Therefor I found some English broidery that my sister-in-law bought in a flea market in meters. I cut out an area that included lots of flowers and kept the edge. By doing so I could form this fabulous collar and I also added a curved edge to the bottom of the jacket. Now I'm really looking forward to wearing it next summer with my summerdresses.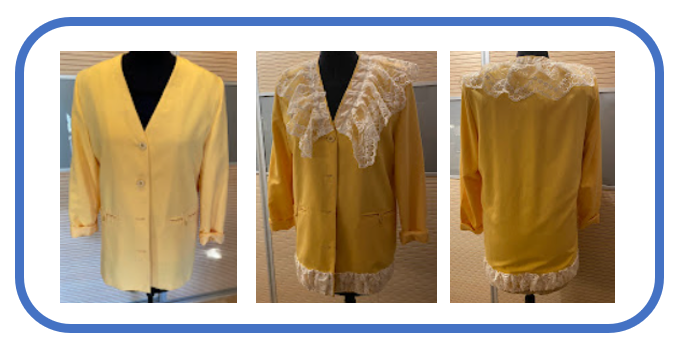 ---
Fleecejakke
One of personal favorit jackets is this pink fleece jacket. Which, by the way, I bought in a recycling shop for 40 DKK. As I am a great fan of colours and feminine expressions, I added my pink fleece jacket with a lace with pink and gold.

---
From traditional housecoat to fun kimono
My old housecoat made of terry, has always been a couple of sizes to big for me. And a bit boring. I cut of a bit of each side, took of the sleeves and sewed them back on. Only this time with ¾ length instead of long sleeves. I replaced the belt with a zipper and found some matching laces.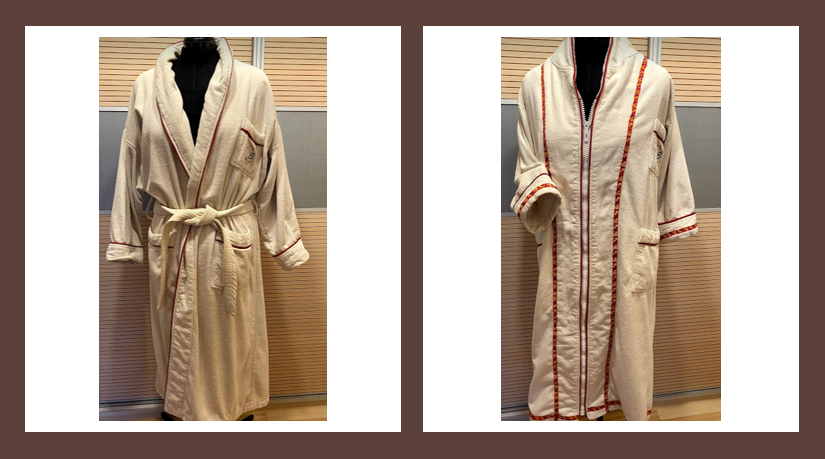 ---
Silk kimono
This kimono is originally taylormade in Thailand. It's made of silk on the outside and cotton on the inside. It has two pockets both on the inside and the outside. The traditional collar has been replaced with lace, by a zipper and a belt to be used when needed.
---
Homemade knitted sweaterjacket with belt
This is an example of how to use your leftover yarn. This is a sweaterjacket of mixed yarns such as Acrylic, wool etc. This is why I recommended the buyer to was on a wool program and preferably in a pillowcase or similar size. Corresponds to approx. size 58. You can find much more FieFit Redesigns in your size HERE. I have put a lot of hours and love into this sweaterjacket and I have now found a buyer, whom I hope will be as happy wearing it, as I've been knitting it.
---