---
INDEX  – Guided tour on how to benefit most, when visiting my website. Enjoy 😊
---
FieFit Redesign on social medias
My main focus is making this site as easy to use. My redesigns are also available on Instagram, Pinterest, Twitter and LinkedIn.
Share my link with family and friends
You are most welcome to forward a link to my website, should you think it could be of interest to others.
Facebook is not for me, which is why I've made my own chatroom
I'm sure some readers will ask why I'm not on Facebook. And to be quite honest, it's because I'm not strong enough to deal with the negative and tough outbursts that, unfortunately, occurs to often on Facebook.
As an alternative, I've now made my own chatroom, which will now be my alternative to Facebook. You'll find my new chatroom HERE.
Newsletters
I think it would be great, if you would like to receive my newsletters. They will include date and time information of my workshops, updates to my blog and of course pictures of new redesigns. Some of which will inspire you to try on your own or some of which you might want to buy.
If you have wishes, suggestions to either workshops, guestspeakers or ideas to my workshop or my website, please let me know. Either by mail: fiefit@outlook.com or mobile: 4082 9038
Kind regards FieFit Redesign by/Janeth Svendsen
---
NEWSLETTERS 2023
March
Headlines:
discounts
custom made to measure
status carbags
dish cloth for arthritic hands
click and buy
the sewing room
other projects
inspiration are free of charge
Discounts
As mentioned in my newsletter of last month, I now offer a buy-for-3-pay-for-2 discount. Instead of only offering it for February and March, you will now be able to get the discount until all my FieFit Redesigns are sold.
Last year I lowered all prices for my Redesigns significantly. This is also my reason for removing the 10% discount for my newsletter subscribers. And yes, I admit it might go against the trend, but an increase in the focus of redesigning and upcycling, has entailed a very large supply. This boom is mainly due to Covid-19 lock-down, and it is very good for our climate in general. And even though it makes me very proud to be a first-mover regarding redesigning, it doesn't change the fact, that my wish to Redesing is, and always will be, a hobby. And nothing else. And to be quite honest, I must admit that neither my energy, nor my goal with Redesigning, are serious enough to be a part of this competition.
Custom made to measure
Instead, I've decided to focus more on my custommade bags, carbags, cushioncovers like THESE, snugglerings like THESE and garden cushioncovers. I have now purchased innermaterial for all my bags, which are both wind- and waterproof. This will give the bags the same fluffy and stiffening effect, as the ones I'm producing now. At the same time, it's much easier to travel with more bags in the trunk, because you can adjust the size of bags to the size of your trunk. This also prevents from having wasted areas between the bags, as you are most likely to have with stiff suitcases or trolleys in your trunk.
I also find my bags very handy in a flight cabin; partly because it's not as heavy as a trolley when you need to lift it up into the cabin compartment, and partly because it's easier to make it fit amongst all the other bags.
Status carbags
As you can see on the picture below, my bags are really spacious. The measurements of this bag is: 45x45x15 cm, which fits perfectly with two besides each other and 2-3 on top of each other in a car like a Toyota Touring Sport, Stationcar. And my guess is, that it only differs a few cm between each car model. Otherwise, I'll adjust after the measurements you want. When packing the bag with below content, it weighs 5,3 kg:
2 pair of long pants
1 sweater
1 summerjacket
7 T-shirts
7 pair of underpants
7 pair of socks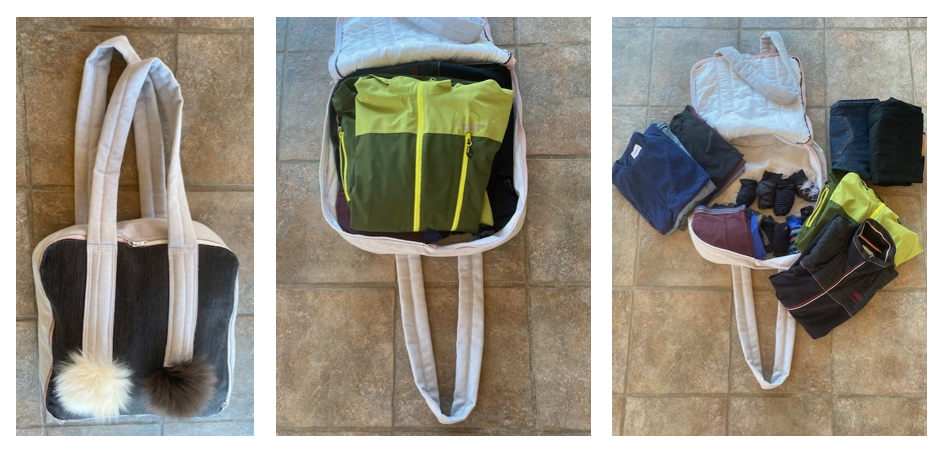 My intention is to produce the bag with shoulderstraps, as you see in the picture, and with an ordinary short handle. THIS will show you, how the bag is build. The price for the bag is 900 DKK. Half of the price covers materials and half is my fee.
Dish clots for arthritic hands
I've learned that the thicker the dish cloth, the easier it is to handle when you suffer from arthritic hands.
Normally I knit my dish clots, but it appears that the dish clot gets thicker and firmer, when crochetted. And it does not have to be that difficult. Especially if you, like me, have difficulties following knitting instructions. In that case I recommend that you try crochetting as shown on the picture below. I start with the common square a couple of rounds. Then I crochet rod masks in all available holes. When the dish clot has the desired size, I crochet one round with fixed stiches and I end up with a picot edge.
I use 50 grams of cotton yarn for one dish clot.
Much more inspiration and knitting patterns right HERE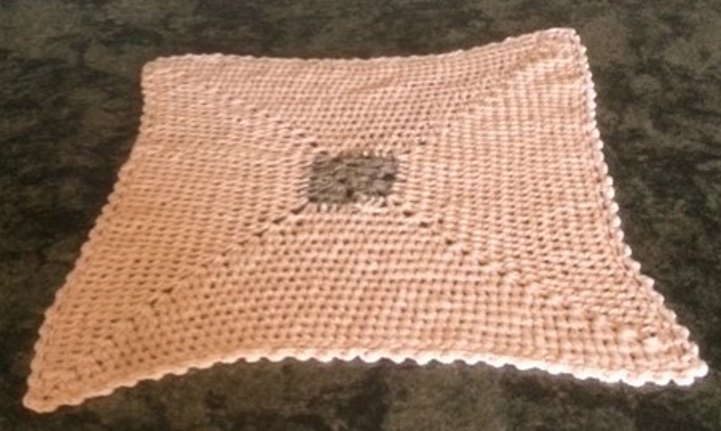 Click and buy
Remember, that it's possible to purchase my Redesigns by click and buy on my website. The link will direct you to my small boutique on Trendsales, and your items will be delivered by DAO or BRING at the price of 39 DKK.
You can also find a lot of other things, besides my FieFit Redesigns. Right now I have 147 things for sale. And remember, you can choose more than one at a time 😊
My sewing room
When I'm making my bags, I've discovered that it's a huge help to iron before sewing. Phew, it meant a lot of running between my sewing room and our utility room. Then I moved my ironing board into my sewing room, and it became very crowded. Now I've replaced 3 sections of the bookcase into the hall, which has given me ample space for my ironing board. Svendsen then hung up to shelves above the ironing board, matching the bookcase section that remained in the sewing room. It's really a good room now – come see for yourself 😊 Now I just need to find a way to hang all my zippers below the shelves.
Other projects
Now I've found the koncept for my bags, and I've gained a lot of experience. I only need to add zippers in the remaining 3 of our own shoulderbags, and then I'm prepared to proceed with the Porche-carbags.
I've also bought a lot of yarn on Trendsales, probably for another 2-3 knitted skirts.
One of my old short jersey skirts will be redesigned to a blouse. And the yarn to use is also purchased.
Much more to come about all this in the coming newsletters.
Inspiration is free of charge
You are most welcome to write and call me, if you need some inspiration for one of your own projects. I'm sure we can both learn from this
www.fiefit.dk is also in english. Feel free to share my site with friends and family out­side Denmark as I put a lot of effort and love into making the english pages.
Registration and deregistration of my newsletters: Send a mail to: fiefit@outlook.com, or a text message to +45 4082 9038.
Find me on Instagram and Trendsales too.
Below you'll find previous newsletters:
---
February 2023
Learn more about: onlineworkshops, status on carbags, sewing ma­chine course, knitted skirts, 3-for-2 discount in February and March
3-for-2 discount
In February and march you can get 3 FieFit Redesigns for the price of 2. That means, that the cheepest one you choose, is for free. This discount is also to be used if you purchase any item from my little shop on Trendsales. If you're not familiar with the Trendsales proces; I'll give you a short introduction below.
Start by choosing one of my Redesigns from www.fiefit.dk. The link will transfer you to my Trendsales shop. Scroll further down the page, until you find my picture. Click on my picture, and now you will see my entire Trendsales shop. Today you'll find 126 items in here, and this is much more than my Redesigns. By clicking on the pictures you want to purchase, a total amount will be shown. Here you can either accept the price, or you can deduct the price of the cheepest item you choose. Should you want to purchase more than 3 things, you can either suggest the amount you want to pay, or you can click on "kontakt" and then we will agree on a good price for your purchases. An extra bonus is that should you want to purchase for more than 500 DKK, then I'll cover the 39 DKK which is the shipping cost.
Online workshops 2023
Well, well – I know we all change our minds from time to time. And I decided that I didn't want to reserve every 4th Sunday as standard. Instead I invite you to contact me, and we'll settle on a date together. Then you can coordinate with a group of friends you might have throughout Denmark, or maybe even also some abroad. Find more ideas about online workshops HERE.
Status carbags
I'm aware that I'm spending extra time on these carbags, because I want to do things my way. The reason being that I can only work a limited amount of time and also because I'm learning by doing. I'm worried that if I learn "the proper way", it will be at the expense of my creativity. And by that I mean, that I will loose the ability of making the quearky, different and fun results that I love making. Next step is to add om the shoulder strap, I've cut and ironed the fluffy fleece onto the fabric and only needs to sew it on the carbag. To be continued 😊
The proces so far has shown me the way to the coming carbags and I've also found another solution for the waterproof material, which saves me 2 layers compared to the technique I'm using now.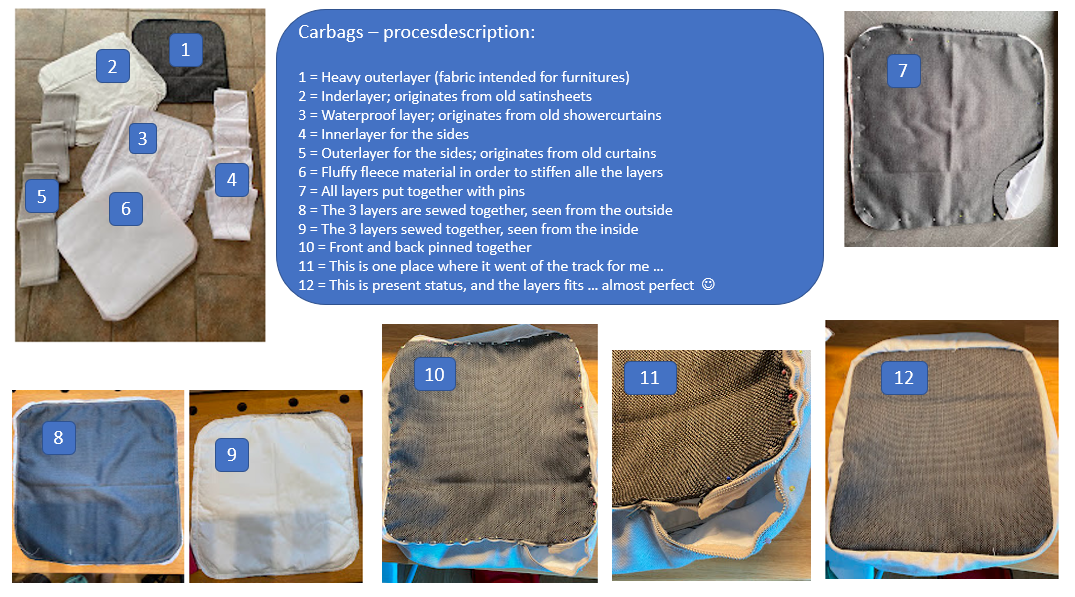 DIY-inspiration
I've just finalized my 4th knitted skirt and have started on the 5th. Pictures and knitting patterns on the DIY page.
Sewing machine course
As mentioned in the January Newsletter, I've attended a course regarding my new sewingmachine. It was very constructive and cozy because as it happens, we were only 2 participants. Which also meant that the course was directly aimed at our specific needs and questions. I can highly recommend you to take a look at the other courses they offer.
YouTube and TikTok
Nope, you don't have to look for me on neither YouTube nor TikTok. To be honest, I cannot see myself amongst the other creative features. Maybe at a later stage, but as it is right now, I'd rather spend my time doing the things that I find funny and usefull.
---
www.fiefit.dk is also in english. Feel free to share my site with friends and family outside Denmark as I put a lot of effort and love into making the english pages.
Registration and deregistration of my newsletters: Send a mail to: fiefit@outlook.com, or a text message to +45 4082 9038.
Below you'll find previous newsletters:
---
January
Read about:
onlineworkshops, taylormade bags, DIY-inspiration,
training seminar regarding sewing, FieFit in social medias
HAPPY NEW YEAR
I hope you've started the new year in a good way and that you can look into many exciting tasks and experiences for the new year to come. Personally I don't think it's been long since we learned how to write 2022, and yet, here we are at the beginning of 365 fresh and brand new days – and opportunities.
Workshops 2023
I have great expectations and hopes for my new online workshops, and I hope you will give it a try. I'm sure you will get a lot of DIY inspiration. More details about dates and times HERE. The first online workshop will take place Sunday, January 29th from 15.00-16.00 CET.
Subscribe either by fiefit@outlook.com or text me +45 4082 9038. When you have subscribed I'll send you a link to click on when the time comes.
New production focus on my part
As you know, you can find me on Instagram, and wau, there are so many people upcycling/redesigning in all sorts of ways and areas. And quite a lot are describing there clothes as "rede­sign". I'm a bit flattered, to be honest, because back in 2018 when I was trying to find a good name for my new hobby, there were no Google hits on the word "redesign". Which is why I chose the name FieFit Re­design. And I cannot but praise that there are so many options today, if we want to buy either recycle, upcycle or redesigns. Thus taking better care of our planet.
Having said that, I must admit that it also makes it really tough to make my own unikke redesigns shine through.
Whereas I've now heard several times, that if you Google "taylormade bags (that is the worthing in danish)", then you're most likely only to find FitFit Redesign 😉. Which is why I've redesigned my webpage in order to shift focus from upcycled clothes to taylormade bags, taylormade pillow- and cushion-covers and taylormade – or knitted – snugglerings.
My latest project is a taylormade storage-bag to fit the bottom of my wardrobe. I'm sure you recognize trying to fill up the space with big plastic boxes, plasticbags and much more. And afterwards there's lots of empty spaces ie. waste of space. Just like the principle when you pack your car with trunks and sportsbags. So I decided to sew a mega big storage-bag, without handle though.
The outer material is furniture fabric. And unto the backside I've ironed fluffy "vlies" and on the inside I've added a layer of satin fabric from an old sheet. The storage-bag is opened by a zipper on the top. In this we now store all our pillows, and no waste of space. The bottom of the wardrobe is now used till the last inch.
You are still able to find my redesigned recycled clothes, but I've decided to put the production on hold for a while. In order to visualize my new focus, I've also redesigned my web page. I hope you like it: www.fiefit.dk
DIY inspiration
Besides taylormade bags etc, I've also decided to focus more on inspirering you to DIY. For this reason you will find lots more DIY inspiration on my web page. And for that purpose I do hope to meet a lot of creative and fun people in my online workshops.
Instruction to my new sewingmachine
By the end of this month, I'll attend a seminar at Symaskineshoppen in Roskilde in order to learn more about my new sewingmachine. Even though I think I've learned a lot all by myself, I look forward to having a lot of demonstration in how to use all the facilities 100%.
Twitter, YouTube and TikTok
Since Elon Musk took over Twitter, I must admit, that his changes and his approach to the use of Twitter is far far away from my values. As a consequence I've deleted my Twitter profile. Even though I'm already missing all the nice people I "met" on Twitter, I also have to recognize the amount of work it takes to be on several Social Medias at the same time. And as you already know, I want to focus on updating www.fiefit.dk and my Instagram profile.
Instead of Twitter I've decided to put some time and effort into uploading inspirational videoes to both YouTube and TikTok. Recently I've been told about a Danish author who's had quite a lot of likes on TikTok. I thought that TikTok was mostly used by very young people singing and dancing. It remains to be seen whether it could be a media for FieFitRedesign too. We'll just have to wait and see – fingers crossed 😊
Happy new years wishes from FieFit Redesign
---
www.fiefit.dk is also in english which enables you to share it with family and friends outside of Denmark too.
I put a lot of effort and interest in translating all the pages into english. Do enjoy.
Subscription and unsubscripton of my newsletters: to fiefit@outlook.com, If you prefer a link by text message, please let me know and I'll be happy to text you instead.
Below you'll find Newsletters from previous years:
Subscribe and unsubscribe to news
By sending a mail to fiefit@outlook.com with only a few words, either "no thank you" or "yes, please"
---